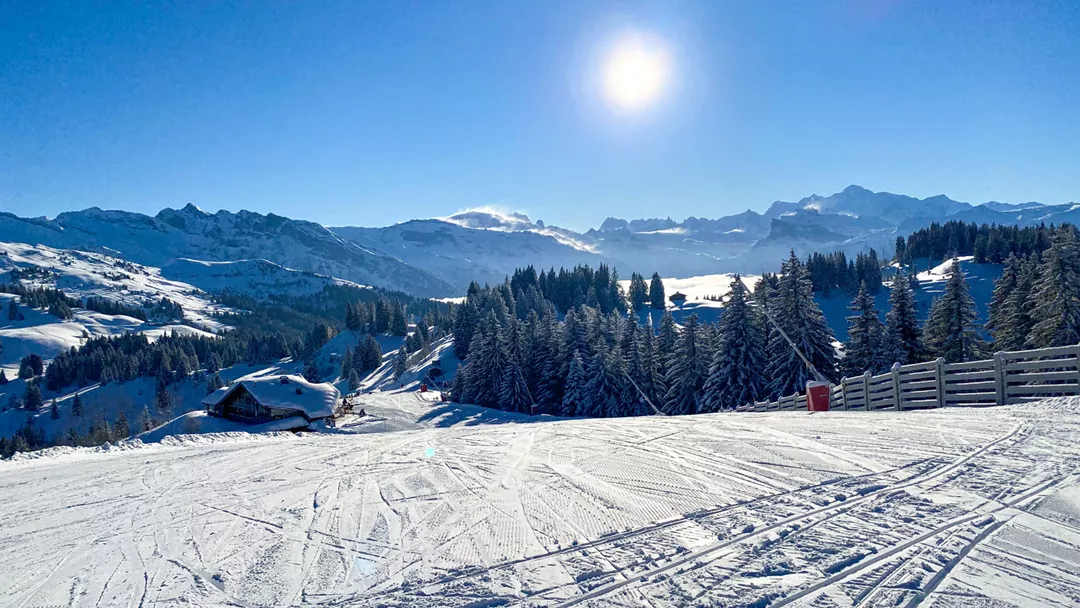 France has long been the most popular ski holiday destination with British skiers and snowboarders. Every year, thousands of British winter sports fans flock to the French Alps attracted by the huge and varied ski areas, excellent cuisine, and lively, trendy après-ski. Another great advantage of French ski resorts is that they are relatively close and easily accessible making even short ski breaks and ski weekends possible in the French Alps!
Accommodation standards in France vary enormously from the cheapest ski studios to expensive luxury chalets – there really is something to suit every taste and every ski holiday budget. Accommodation at the higher end is comfortable and generally well maintained and the staff are friendly and helpful. However, read reviews about cheap ski holiday apartments to avoid nasty surprises. The local specialties and wines are extremely good and you will generally find that it is much cheaper to eat a full meal at lunchtime than in the evening in France.
French ski areas are relatively large
French ski areas are relatively large with excellent links joining the different parts. Ski pass prices may seem high compared to neighbouring alpine countries, but you certainly get what you pay for as the ski areas are vast. It is also worth booking ski passes in advance or in groups (as small as 2!) as there are many special deals on offer in French ski resorts. French ski schools, in particular ESF, have an excellent reputation making French ski resorts a good choice for family ski holidays and for those looking for professional ski coaching. ESF also provides Child Club ski school in most of the larger ski resorts which combines ski lessons, lunch and nursery care meaning that parents really can make the most of the slopes without having to come back to pick up the children at lunchtime!
Skiing holidays in France
It's almost impossible to compare one French ski resort with another and therefore one ski holiday with another. French ski resorts vary from tiny, traditional hamlets such as Orelle in the Three Valleys ski area to large, purpose-built towns such as Tignes which shares the Espace Killy ski area with Val d'Isère. This means you can be sure that you will find the perfect ski holiday destination whatever your tastes and requirements. French ski resorts are often criticised as being too quiet with no après-ski and it is true that in the smaller, more traditional resorts, everyone seems to be in bed by 10pm! This may not suit everyone, but it creates a very calm, relaxing atmosphere that is particularly suitable for families with young children who need lots of sleep after a hard day on the slopes. Après-ski really depends on which ski resort you choose! It varies from a sleepy little café filled with locals chatting over a beer to crazy, Ibiza-style clubbing that often even gets going after lunch! Scroll down to find out more… French ski resorts are generally located at high altitudes compared to neighbouring alpine countries meaning that lack of snow is rarely a problem. However, the French Alps cannot boast the same annual snowfalls as Austria! Ski lifts are, in general, modern and fast and the slopes well maintained. It's not hard to understand why so many British skiers make the choice of spending their ski holiday in France with all of these wonderful attributes!
Childcare in French ski resorts
If you're off on a family ski holiday and you're looking for childcare options in French ski resorts, then read on… There are usually places available in locally run "creches" or "garderies" (nurseries) where children from 3 months to 6 years old can be taken care of by professionally trained staff. There are usually different options, such as mornings with lunch, or lunch and afternoons including afternoon snack and prices vary from one ski resort to another. The standards are generally very high in these establishments but the staff are maybe a little less enthusiastic and friendly than the private nannies or babysitters proposed by ski holiday and chalet companies. If you book ski holiday accommodation in a chalet or chalet hotel in the higher price bracket, you are very likely to have the choice of bespoke childcare that can be adapted to your needs. This can be any kind of childcare from a personal nanny, for a very young baby, to someone to accompany a group of children to their ski lessons and back. Again, you get what you pay for so if you're looking for a cheap family ski holiday, then it might be a good idea to take Granny along…
Après-ski and nightlife in French ski resorts
The après-ski in France is as varied as its ski resorts. It is worth mentioning, however, that it has evolved over recent years as French ski resorts have jumped on the bandwagon trying to attract the next generation of skiers and snowboarders to their resort with trendy, large scale bars. As mentioned previously, don't expect to find good après-ski everywhere in the French Alps! Some small ski resorts literally fall asleep at 10pm! So where are the hottest après-ski spots in the French Alps? Méribel in the Three Valleys can boast a pretty good line up! Starting with lunch and some table dancing at La Folie Douce up on the slopes, you can move on down to the The Rond Point après-ski bar which stays open until 7:30pm. It's well-known with the young British ski and snowboard crowd for its lively atmosphere and great views. You certainly don't come here to listen to talented musicians but I think even the most exhausted skier would find it hard not to get up and join in the fun! If you're up to it, you can ski down to the resort or take the bus if you're legs are feeling a little tired! Don't think it's all over – in fact the night is still very young! Meribel has a great choice of bars and nightclubs including
Après-ski in Val d'Isere and Alpe d'Huez
Val d'Isère is another favourite for après-ski with Dick's Tea Bar now one of the biggest bars in the French Alps! The bar was originally opened in 1979 by its founder Dick Yates Smith and has increased in popularity over the years. Here, you'll find reasonably priced drinks and the bar stays open until 4am. If you're looking for a cheap and cheerful ski holiday, Alpe d'Huez is the place to be. You'll find cheaper accommodation, ski passes and much cheaper beer than in Val d'Isére or Méribel! If you like a good pub crawl, Alpe d'Huez has the best on offer! You'll have to have your beer legs on if you think you'll manage to make it through O'Sharkeys, Smithy's, The Crowded House and the Freeride in one night! Alpe d'Huez can now also boast to being home to the latest La Folie Douce bar/restaurant!
Top events in France ski resorts
In the French Alps, there is a huge choice of outstanding sporting events such as the X-Games held each year in Tignes, the Andros Trophee hosted by the ski resort of Val Thorens at the opening of the each winter season and the Grand Odysee, a 1000km long dog sledding race which crosses the French Alps! If jazz music is more your cup of tea, then the Avoriaz Jazz'Up festival, which has now earned a reputation as one of the best jazz festivals in France, is the place to be! The international line-up over the last few years has included the likes of Didier Lockwood, Jonathan Kreisberg, Archie Shepp, Ahmad Jamal and China Moses… For its seventh edition, the Avoriaz Jazz'Up Festival will have a 100% feminine headline highlighting women in Jazz music. For those of you still young at heart, the brand new event this season is Ibiza Rocks The Snow - mixing music, skiing and snowboarding in the top ski resort of Méribel. This premiere promises to be the first of many with an international line up not to be missed …