Chamonix was the host resort for the 1924 Winter Olympics, adding to this ski resort's mythical status. Besides skiing, snowboarding and cross-country skiing, you can also try mountain climbing, hiking, ice climbing and even hang gliding under the watchful eye of the Mont Blanc. Chamonix offers ski accommodation in all categories for all budgets and is renowned for its good variety of quality restaurants. From live music to late-night venues, even the most avid après-ski fans won't get bored in Chamonix! For a quieter alternative that still gives access to the skiing around Chamonix, try visiting the villages of Les Houches or Argentière.
It's impossible not to mention the "roof of Europe" when talking about Chamonix! The Mont Blanc is the third most visited natural site in the world and attracts millions of visitors from every nation. You'll get the best view from the 3842m high Aiguille du Midi, accessible to skiers and non-skiers alike. Mont Blanc played key role in the history of mountaineering and climbing this mythical mountain is a dream shared by many climbers. The Evasion Mont-Blanc ski area offers a more accessible way to experience this legendary site! Also within reach of Chamonix is the legendary glacier, which can be reached by train from Montenvers. For 50 years now, a cave is carved out each year and can be visited - an ephemeral work of art. Accommodation in Chamonix ranges from cheap apartment complexes to beautiful old hotels. As Chamonix is a rather large mountain town, the après-ski and nightlife scene is varied and offers something for everyone. Chamonix is easy to reach via Lyon Airport or by car from Calais.
Snowplaza review
Après-ski/events
Cross-country skiing
Families & Children
Price level
Winter hiking
""You HAVE to ski Chamonix!" We were getting tired of hearing this all the time so we decided to check it out for ourselves - and we weren't disappointed. We are..."
Cross-country trails at Chamonix
The region surrounding Chamonix and Mont Blanc has around 50km of prepared cross-country trails for nordic skiing enthusiasts. The cross-country trails around the lake of Les Chavants and the neighbouring forest is free to access. The other areas, available in a variety of difficulties from blue to red, charge a nominal fee. These trails wind their way along rivers, valleys and picturesque larch woods, offering a peaceful way to explore the area. Although the trails are not lit at night, it is possible to ski on some of them if you bring your own head torch. A true way to unplug and relax on your ski holiday!
Chamonix keeps up its reputation with its packed events schedule
Chamonix is a lovely village with plenty to do. Wellness in Chamonix takes the form of swimming pools, massage parlours and spas. If you're keen to go shopping, there is a variety of shops to browse in Chamonix, as well as several museums and art galleries. The ski season offers a busy event calendar, hosting everything from sports competitions to concerts. Chamonix is a regular stop on the Freeride World Tour. The ski resort also hosts a week-long music festival, The Unlimited Festival, near the end of ski season every spring. This is the chance to combine a love of skiing with the raw energy of top electronic DJs playing on spectacular outdoor mountain stages.
Eating out in Chamonix
Foodies will be pleased to know the village of Chamonix boasts three Michelin-starred restaurants: L'Albert 1er (2 stars), Le Bistro (1 star) and Du Bois Prin (1 star). There are also plenty of more laid-back places to grab a quick snack or a drink, such as the Chambre 9. And night owls can check out the Bunker Nightclub, Le Privilège or L'Amnésie. There is something for everyone off the slopes in Chamonix. Don't forget to order a Reblochonade while you're in Chamonix. This is a sumptuous traditional Savoyard dish made from Reblochon cheese and potatoes.
Skiing in Chamonix under the watchful eye of Mont Blanc
The ski area at Chamonix has around 150km of slopes, evenly distributed between beginner, intermediate and expert-friendly slopes. But the real draw of Chamonix is the off-piste terrain. Imagine yourself at 3300m, at the top of the Grands Montets cable car of Chamonix - ecstasy! In the heart of the wild mountains, on virgin slopes, a skier's and snowboarder's paradise awaits you. Some of the most famous off-piste routes in the world can be found here, notably in the Vallée Blanche, accessible from the cable car at the Aiguille du Midi and only suitable for expert skiers accompanied by a guide. The Vallée Blanche is a MUST for all off-piste enthusiasts – this kind of spectacular setting can not be found anywhere else than in Chamonix.
Chamonix hasn't forgotten the little ones
Even though Chamonix certainly attracts mountaineering fans and experienced skiers who come to be at one with the Mont Blanc from around the world, this French ski resort hasn't forgotten the little ones and welcomes families and children too. The ESF ski school in Chamonix offers ski lessons for children aged three and up, the "PetitVi " offers kids' craft and visual art workshops, "Petit Didi Dance" welcomes children under four years old to keep fit while having fun. The cross-country skiing area of Chamonix is quite suitable for family activities to help kids discover the joys of snow with a sleigh ride in the valley as well as up on the slopes.
Apres-ski & entertainment Chamonix

Restaurants

130

Theatre

-

Bars & cafes

25

Casino
Nightclubs & discos

4

Concert hall
Cinema

1
Ski school and ski lessons Chamonix

No. of ski schools

5

Private ski lessons

€ 360

No. of ski instructors

260

Ski lessons

6 Days, 24 Hours, € 205

Area for beginners
Snowboarding lessons

6 Days, 24 Hours, € 205

Ski lessons in

-

Cross-country skiing

6 Days, 12 Hours, € 130
Book ski schools in Chamonix online

Kids-Ski-Lessons
8 Offers available
Adult-Ski-Lessons
8 Offers available
Snowboard-Lessons
6 Offers available
Off-Piste-Skiing
3 Offers available
Cross-Country-Skiing
2 Offers available
Ski-Touring
1 Offers available
Facilities Chamonix

No. of hotels

47

Supermarkets

6

Total no. of hotel beds

-

Banks
Total no. of beds

-
Tourist information for Chamonix

Name

Office de Tourisme de Chamonix Mont-Blanc

Email
Telephone

0033 - 0450 - 530024

Website
Distances from Chamonix

Railway station

Chamonix Mont-Blanc - by bus

Airport:

Genève approx. 88 km by bus

From the motorway:

approx. 20 km 10 minuten by car
Chamonix for families and children

Childcare

-

Magic carpet
Playground
Ski lift for children
Merry-go-round

-
Leisure & sports activities Chamonix

Public sauna
Footpaths

17 km

Fitness centre
Torchlight descent

fakkeltochten met kerst en in de februarivakantie

Public solarium
Indoor ice rink
Massage
Outdoor ice rink
Spa & wellness
Curling

-

Indoor swimming pool
Snow rafting

-

Hot air ballooning

-

Dog sledding
Paragliding
Snowmobile tours

-

Indoor tennis court
Toboggan run
Squash court
Ski blog about Chamonix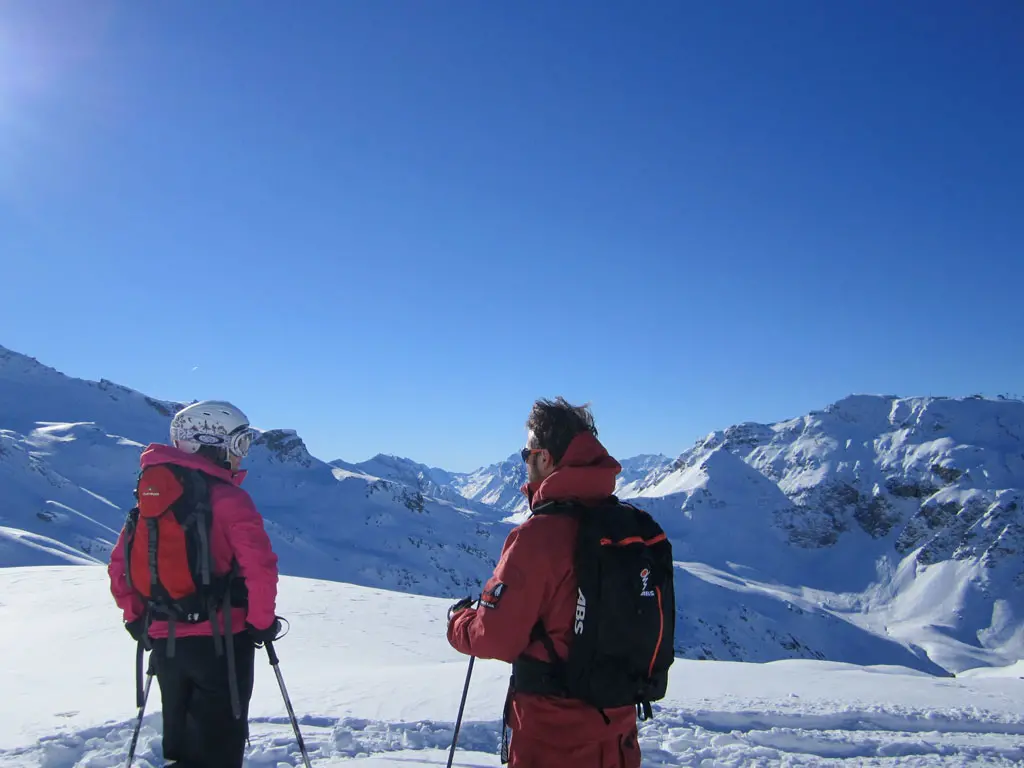 If you're passionate about off-piste skiing, only the number of descents outside the marked pistes count when choosing a ski holiday. Reserved mainly for skiers and snowboarders with a high level of technical skills and good physical condition, off-piste skiing offers the chance to discover the mountain differently: the deep mountain countryside, away from crowds and noisy ski lifts. However, not all ski resorts have a ski area that lends itself to off-piste skiing. Therefore, we selected 5 Fren... More ›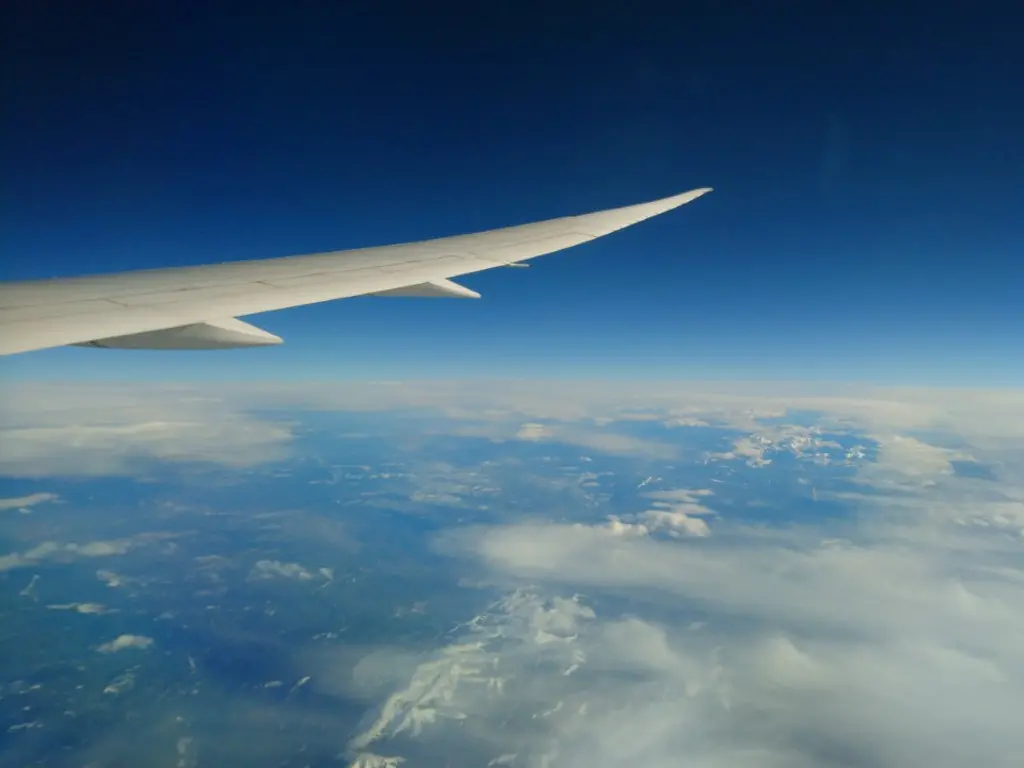 The French skiing airport par excellence, Chambéry Airport comes alive in the winter and welcomes hordes of British skiers and snowboarders. A short flight to this pretty little town will drop you right in the heart of French skiing territory, with access to almost every big French ski area including Chamonix, Les Trois Vallées and Les Portes du Soleil. Chambéry Airport operates seasonal winter flights to more than half a dozen destinations in the UK, mostly with BA. This means it's entirely fea... More ›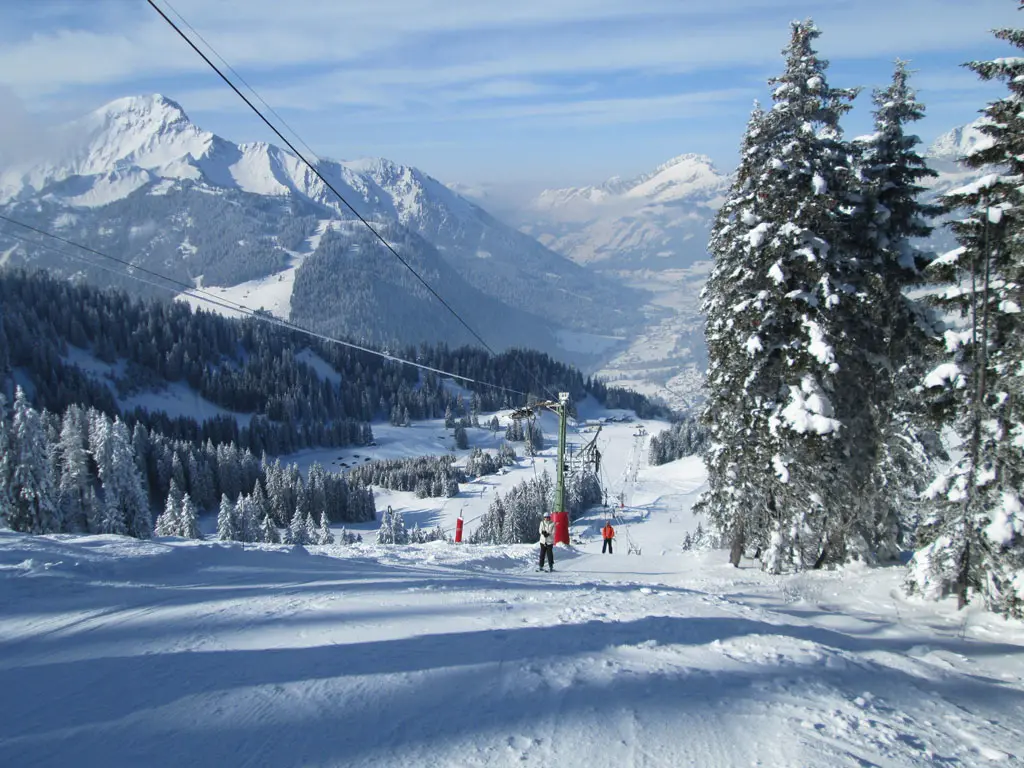 Geneva is a wonderful jumping-off point for many ski resorts. Located on the border between France, Switzerland and Germany, it is within short reach of some of the best skiing in the Alps. And with many budget airlines offering cheap flights into Geneva, there has never been a better time to plan your ski holiday starting from this international city. Once you've landed, renting a car is an easy way to get to your destination with all your ski gear, but it's also possible to take trains. Here i... More ›
(Photo: © Spalder by Thijs Termeer)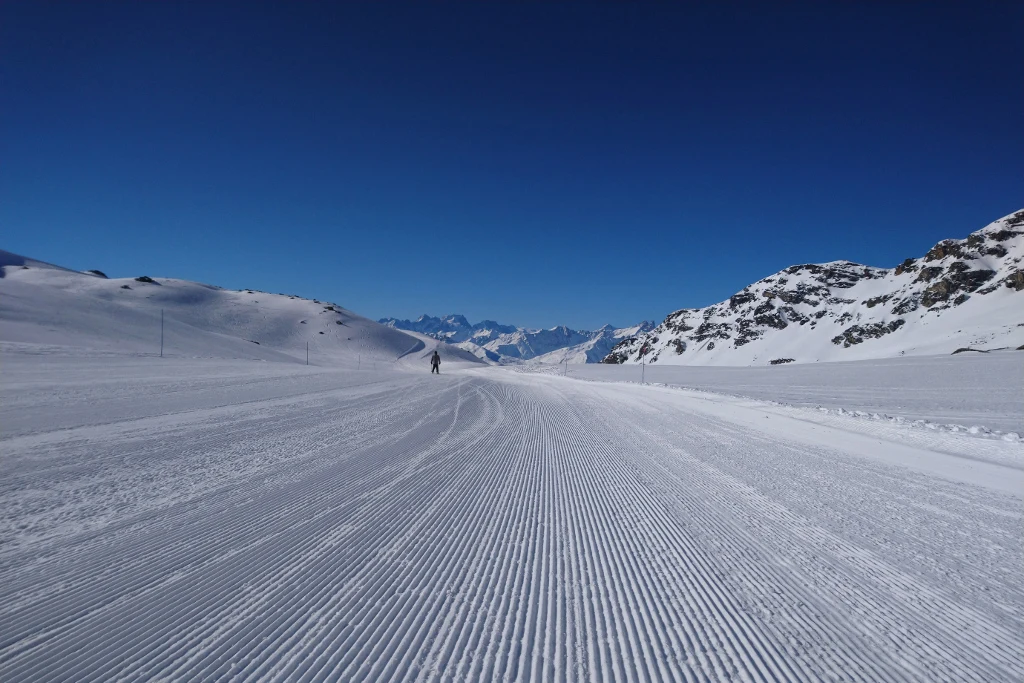 France is known for having a good number of the world's largest linked ski areas, with some of the ski areas measuring over 600km of pistes at altitudes of more than 3000m above sea level. But that's not all France has to offer, and skiers and snowboarders are starting to discover the smaller resorts whose pretty scenery, village atmosphere and varied terrain can easily compete with the biggest names in the Alps. In our list of the top 15 French ski resorts, we've selected some up-and-comers alo... More ›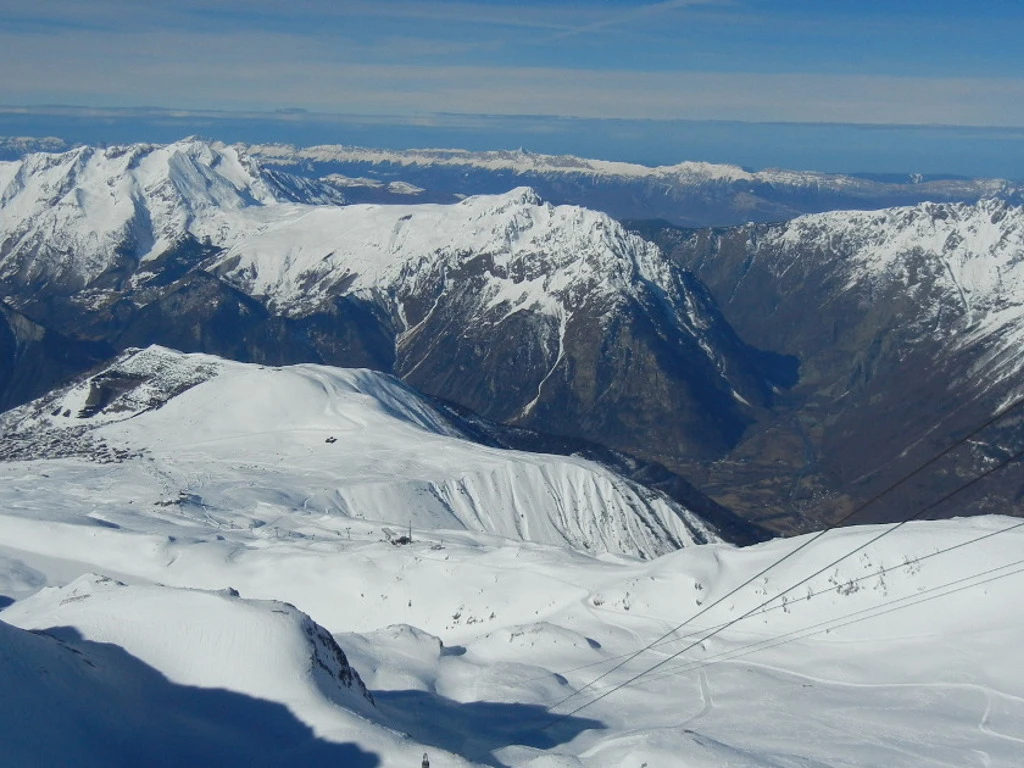 Lyon is a gateway to the French Alps and, as luck would have it, many airlines offer flights from Britain to Lyon-Saint Exupéry Airport. Whether you're looking for a quiet ski resort to spend ski holidays with the family, or a world-class ski resort with endless slopes and challenging terrain, there's no shortage of ski areas within easy reach of Lyon Airport. It's also tempting to spend a few days tooling around this attractive city on your way home – why not make a week of it?... More ›