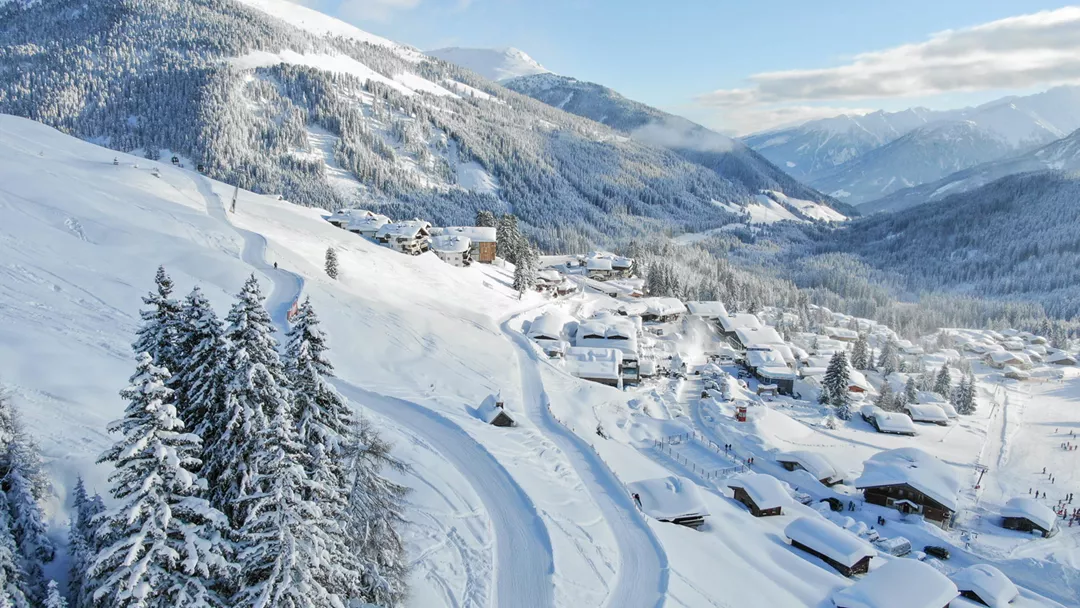 Austria has long been one of the most popular ski holiday destinations. Each year, thousands of winter sports enthusiasts flock to the Austrian mountains attracted by the varied ski areas, ranging from pretty wooded slopes to lunar glacier runs and the legendary, unpretentious après-ski.
Accommodation is comfortable and generally meticulously maintained (whether in hotels or B&Bs), the people are genuinely friendly and the local specialties are extremely good. Austrian ski areas are relatively small with reasonably priced ski passes making Austria a good choice for family ski holidays and for those looking for a cheaper option. Nevertheless, these smaller areas are often linked to larger, more complex ski areas offering a wider choice of ski slopes for all levels.
Skiing holidays in Austria
It's almost impossible to find ski resorts more charming than those in Austria. Austrian ski resorts have a pleasant and traditional atmosphere offering an ideal ski holiday destination for ski enthusiasts and families who love the real thing! High mountains, excellent snow conditions, well-groomed ski slopes, generally modern ski lifts and great après-ski entertainment – it's clear why so many skiers make the right choice each year and spend their ski holiday in Austria.
Tirol The Tirol is still among the top ski holiday destinations in Europe and it's not difficult to understand why. In the heart of the Alps you will find the highest mountains, the largest ski areas, the longest ski runs and the most ski lifts in Austria. Some of the most popular ski holiday destinations in the Tirol are the ski resorts of Obergurgl-Hochgurgl and Gerlos and Mayrhofen which together are part of the extensive Zillertal ski areas. Vorarlberg Ski resorts in the Vorarlberg region, including Lech am Arlberg, Zürs am Arlberg, Damüls - Mellau and Montafon, boast an astounding average snowfall of nine meters during a single winter season making these Austrian ski resorts a paradise for powder hounds. Styria The region of Styria offers endless possibilities for both downhill and cross-country skiers. The Schladming-Dachstein ski area is one of the most popular in this region with endless kilometres of wonderful downhill slopes. Whether classic or skating style cross-country skiing is your thing, you'll have the choice between 15 amazing areas with perfectly prepared cross-country trails which have been awarded the cross-country skiing seal of quality. Over 30 specialised cross-country skiing hotels in this region offer everything you could need for your cross-country skiing holiday, including professional sports therapists. Carinthia In sunny Carinthia, the southern-most ski region in Austria, you can ski in the tracks of the professionals in the ski resort of Bad Kleinkirchheim and enjoy over 110 km of pristine ski slopes in the Bad Kleinkirchheim / St.Oswald & Falkert ski area. This region is known as the sunny side of the Alps and there is a relaxed, Mediterranean feel here complemented by the gentle mountain landscapes which give a soothing feel compared to the rather jagged peaks of the Tirol to the North. Salzburg The Salzburg region is home to some of the best ski areas in Austria and many of its ski resorts are famous all over the world - not only because of the major skiing competitions which are held there. This region's ski resorts including Bad Gastein, Abtenau and many more together provide over 350 kilometres of ski slopes and about 100 ski lifts! Not forgetting its excellent cross-country skiing possibilities.
Accommodation in Austrian ski resorts
In Austria will find a wide range of accommodation from cheap hotels and pensions through to 5 star luxury hotels. Hotels make up the main accommodation offer in Austrian ski resorts. Most have a wonderful traditional feel, are cozy, comfortable and very well maintained. As high standards of service are very important in Austria as a general rule, you'll find hotel staff efficient, friendly and always ready to help. Many hotels are run by families and you will notice the pride they show in welcoming you to their establishment.
Although in the past, chalets in Austrian ski resorts were not very easy to find, in recent years, chalets and chalet hotels have been popping up like mushrooms across the Austrian Alps. You will now find an excellent choice from simple, comfortable and affordable accommodation in chalet hotels to luxury catered chalets with wonderful extras such as private cinema, fully-equipped spa area with hot tub, swimming pool, sauna and hammam! If you're looking for cheap, self-catering accommodation in Austrian ski resorts, the choice of holiday apartments is enormous. Standards are generally very good with a very wide range of options.
Childcare in Austrian ski resorts
Children are almost considered to be more important than their parents in Austrian ski resorts – happy children, happy parents equals a great holiday - is the general philosophy in the Austrian tourist industry. There are even hotels in Austrian ski resorts dedicated to families! The Kinderhotels chain is a selection of 36 hotels that cater specifically for children and parents who want to make the most out of their holiday. The fully-trained teams consist of friendly, motivated English-speaking nannies who provide complimentary childcare for up to 60 hours a week.
Après-ski and nightlife in Austrian ski resorts
The après-ski in Austria is legendary! If lively, unpretentious and friendly après-ski is what you're looking for on your next ski holiday, then Austrian ski resorts have got the lot! The après-ski in Austria is legendary! If lively, unpretentious and friendly après-ski is what you're looking for on your next ski holiday, then Austrian ski resorts have got the lot!
So where are the hottest après-ski spots in the Austrian Alps? Saalbach, Mayrhofen, Sölden-Hochsölden and St. Anton am Arlberg are at the top of the list with après-ski bars such as the Mooserwirt and the Crazy Kanguruh in St. Anton drawing in the crowds from sunset! If you're looking for Ibiza in the Alps, then head to Ischgl, which is now internationally renowned for its wild parties, numerous events and concerts. If you're looking for an alternative to dancing on tables, there are regular torchlight snowshoe hikes, barbecues and even snow snowball championships!
Top events in Austria ski resorts
Great sporting events, concerts and unusual activities can make your ski holiday in Austria even more unforgettable. One of the biggest sporting highlights is the legendary Hahnenkamm race in Kitzbühel. The Alpeniglu, an igloo village in Brixen im Thale, is just breathtaking and well worth visiting. The most spectacular concert of the season will be held in Ischgl at over 2000 meters of altitude to celebrate the start of the 2013/14 winter season. This winter the "Top of the Mountain" concert will be opened by the world famous Canadian rock band Nickelback. Since the very first concert 18 years ago, a great line-up of talent has rocked the crowds in Ischgl including Alicia Keys, Bon Jovi, Elton John, Tina Turner and Deep Purple….
If you prefer something a little more dignified you should take a look at the wine tasting BBQ on the Pitztal Glacier. By the way: the best events in the Alps can be found on the Snowplaza website!
Getting to the Austrian Alps
Driving to the Austrian Alps More and more winter sports enthusiasts choose to drive to the Austrian Alps each year. Apart from being cheaper than air travel, it really is a pleasure to drive on Austrian roads and motorways. To give you an idea, Kitzbühel is about a 10-hour drive from Calais and St. Anton am Arlberg around 9 hours from Calais. When driving in Austria, you must display a Motorway Vignette on the inside of the windshield of your car as soon as you enter Austria and failure to do this will result a heavy, on-the-spot fine that you won't manage to get out of paying! Remember that all Austrian motorways ('Autobahn') and 'S' roads are subject to tolls. Travelling by train to the Austrian Alps Although the last part of the journey as your train winds up the mountains can be quite slow, the main advantage of travelling to the Austrian Alps by train is that many of the ski resorts actually have their own train stations such as Kitzbühel, Mayrhofen and St. Anton am Arlberg, meaning no costly transfers and no time wasted. There are many options including travelling overnight and the Austrian trains, like most services in Austria, are clean, efficient and on time! You can sit back and enjoy the spectacular scenery almost to your doorstep! Getting to the Austrian Alps by coach A number of coach companies offer services to the Austrian Alps. They have a number of hubs or transfer points in the UK but some coach companies also offer local departures points. It may be cheaper and will save a lot of time to travel overnight. The disadvantage of coach travel is that you cannot get up and walk around like you can on a train so you might have a few aches and pains on arrival! However, prices are very affordable which can make this an interesting travel choice for a cheaper ski holiday. Getting to the Austrian Alps by plane It is possible to find cheap flights to airports that serve the Austrian Alps such as Innsbruck, Munich, Salzburg and Vienna. With an average direct flying time of around 2 hours from most major UK airports, this is, of course, the quickest and easiest way to get to the Austrian Alps. Most ski resorts can be reached within under 2 hours from the nearest airport.
Everything about skiing holidays in Austria
The best Austrian ski areas and ski resorts, accommodation in the Alps and weather and snow information can be found on the Snowplaza website. With Snowplaza your ski holiday in Austria starts right here ! Find your favorite ski resort, panoramic photos, ski maps, ski rental, webcams, current weather and snow and event set up your own personalized SnowAlert for your favourite ski resort!
Ski schools & ski instructors in Austria
To get an overview of the Austrian ski schools and their offers, it is best to have a look at CheckYeti. Here, local ski schools and ski instructors of all major ski resorts can be booked directly online. Whether ski courses for children or adults, with a private instructor or in a group - CheckYeti is the No. 1 for ski school bookings.