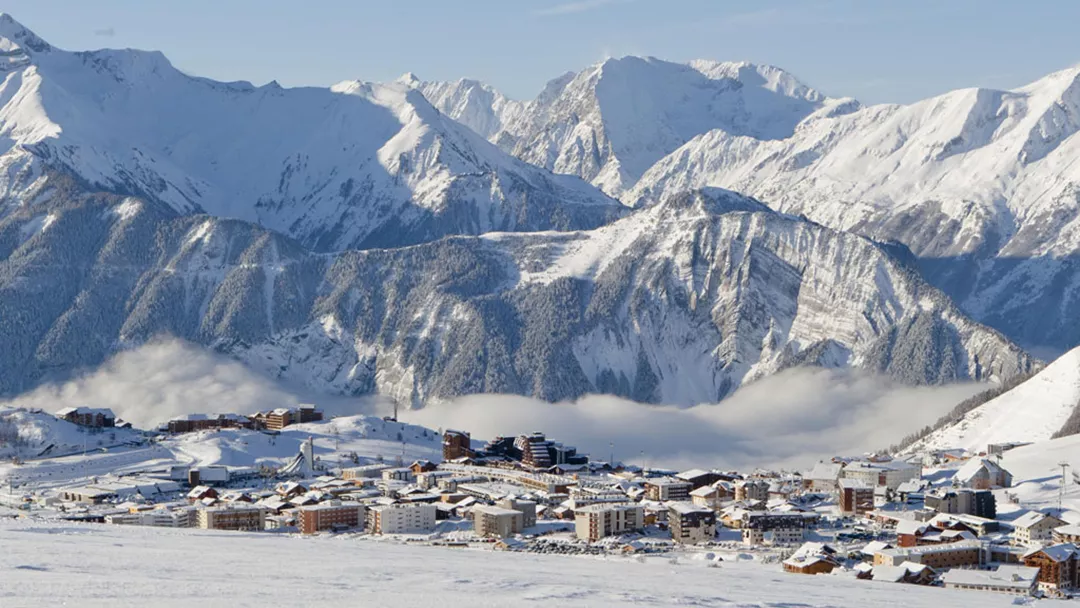 Height: 1450 - 1860 metres

Large ski area with lots of options

Great family ski resort

Good après-ski
L'Alpe d'Huez is nicknamed "l'Ile au Soleil" (Island in the Sun), a name that the ski resort has earned due to its southern orientation and its many hours of sunshine. The snow is guaranteed here until late in the season due to the resort's high altitude location. L'Alpe d'Huez has a reputation for being a good value for money ski resort, offering world-class skiing and facilities at very affordable prices. The Alpe d'Huez Grand Domaine ski area includes L'Alpe d'Huez and the nearby mountain villages of Auris En Oisans, La Garde-en-Oisans, Oz-en-Oisans, Vaujany and Villard Reculas. The popular French ski resort of L'Alpe d'Huez gives access to 240km of downhill skiing spread over 120 pistes including the famous Sarenne piste which, at 16km long, is the longest black slope in the Alps!
The Pic Blanc (3327m) offers panoramic views of the surrounding mountain peaks and is so spectacular that it's been awarded three stars in the prestigious Michelin Guide! Non-skiers will also find plenty to do at L'Alpe d'Huez, with numerous activities on offer such as snowshoeing hikes, snowmobile rides, visits to an ice cave accessible by the Grandes Rousses gondola (otherwise known as the DMC) two swimming pools and spa activities such as whirlpool, massage, sauna, jacuzzi, etc. On top of all these fantastic leisure facilities, there is some excellent, lively nightlife in L'Alpe d'Huez. With more than 50 restaurants, this ski resort offers varied cuisine and wines for all tastes and budgets. L'Alpe d'Huez truly is a ski resort with something for everybody!
La Sarenne: Longest black slope in the world!
Children and beginners will have no end of fun in the Bergers section, with easy, gentle slopes for gaining confidence. Fun slopes like Marcel's Farm and Chez Roger provide a fun challenge with obstacles and mascots. For intermediate skiers and snowboarders, there are plenty of day trips to be made to the nearby ski resorts of Vaujany, Auris-en-Oisans and Oz-en-Oisans. Vaujany offers a very different experience, with skiing below the tree line. Expert skiers should start the day by taking the Pic Blanc gondola up to the Pic Blanc, where there are stunning views of the surrounding mountain peaks. This is the starting point for La Sarenne, the longest black slope in the world. Alternately, if you veer off to the right and go through a tunnel, you'll have access to fantastic black slopes including Le Tunnel, notorious for its waist-high moguls! L'Alpe d'Huez boasts floodlit slopes for night skiing, a must-try if you never have!
Snow parks at L'Alpe d'Huez
Alpe d'Huez has a south-facing snow park, which ensures sunshine from 9am onwards and perfect light for shooting some pictures of the best moments of your ski holidays. The snow park is constantly evolving to meet the requirements of beginner and expert freestylers alike. Each zone of the snow park is adapted for a different ability level, with a variety of tables, boxes, rails and other jumps.
Discover the Oisans mountains by snowshoe or ski touring
What better than a snowshoeing tour to get in shape before hitting the ski slopes? L'Alpe d'Huez offers daily snowshoeing tours of the spectacular Oisans mountains and the Massif des Grandes Rousses. Tours take place in the mornings and afternoons throughout the ski season, from December til April. Or, kick the adrenaline up a notch and book a guided backcountry ski session in the Massif des Grandes Rousses or the Massif des Ecrins. This is a once-in-a-lifetime experience to ski on virgin snow away from the crowds, with the potential to spend a night in a mountain refuge. As the Bureau des Guides puts it, "ski mountaineering for everyone... but go with a guide!" More information is available at the Bureau des Guides, inside the ESF chalet at the Rond-Point des Pistes.
Family holidays at L'Alpe d'Huez
The ski resort of Alpe d'Huez, with its "Famille Plus" label, is committed to ensuring a personalized welcome, adapted activities and unforgettable family ski holidays. The daycare centre "Les intrépides" welcomes the smaller members of the family, aged between 6 months and 4 years old, with friendly, English-speaking staff always ready to help. The ESF children's chalet offers ski lessons for all ages, in combination with childcare services and an outdoor play area. Family ski holidays in Alpe d'Huez are always a success!
Legendary après-ski and international events
La Folie Douce is one of France's most popular après-ski institutions and opened a location at the top of the Marmotte lift in L'Alpe d'Huez a few years back. Every afternoon, the huge wooden terrace at La Folie Douce turns into an outdoor club, with DJs and live musicans and skiers bopping along to the music while still in their ski boots! L'Alpe d'Huez also has a jam-packed event calendar. Among other events, the ski resort hosts the annual International Comedy Film Festival, and was home to the first-ever Tomorrowland Winter music festival in the 2018/19 ski season!
Alternate activities at L'Alpe d'Huez
L'Alpe d'Huez offers a full spread of alternate activities should you get tired of skiing and snowboarding! The village has an outdoor swimming pool and ice skating rink with beautiful views of the ski area. Families and the young-at-heart, be sure to try the exhilarating VR alpine coaster . There's also a sledging area, ice climbing routes and an ice cave to discover, plus an Altiport which offers paragliding and other airborne activities.
Photo gallery of L'Alpe d'Huez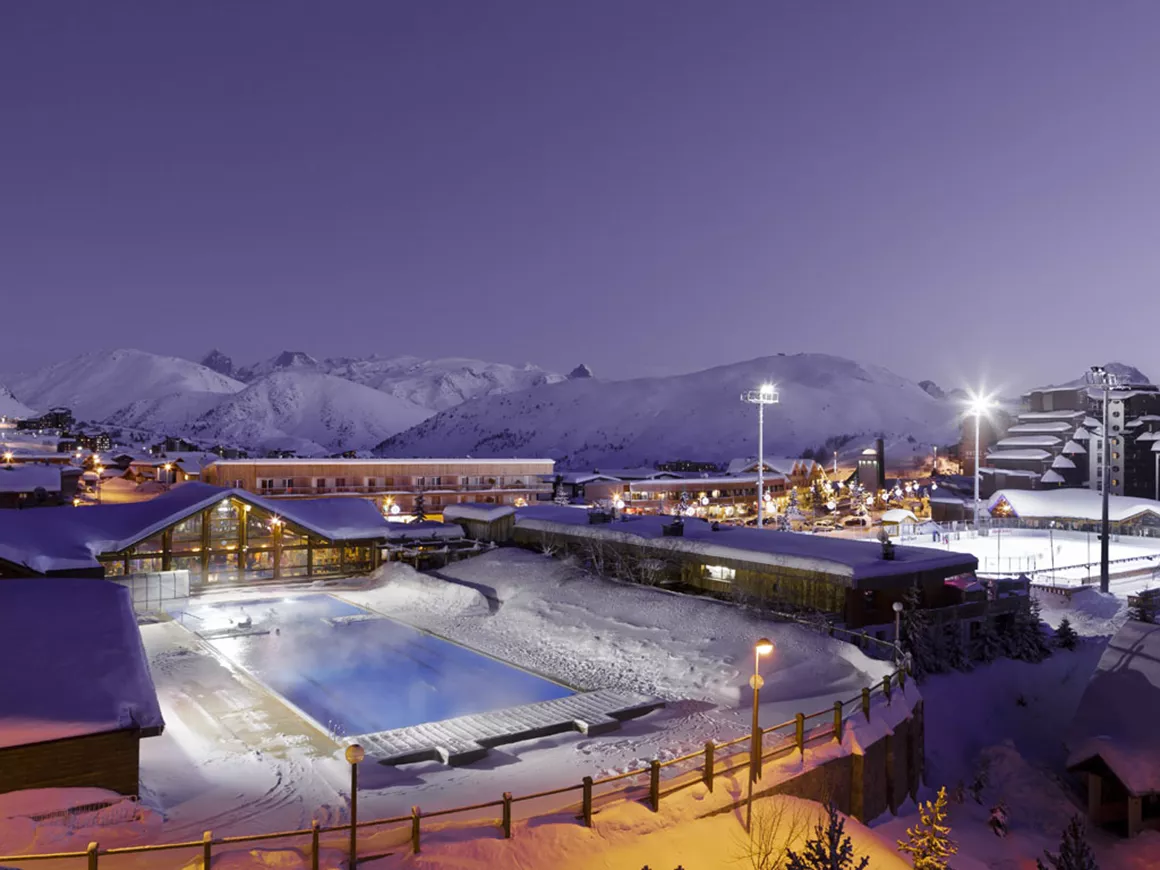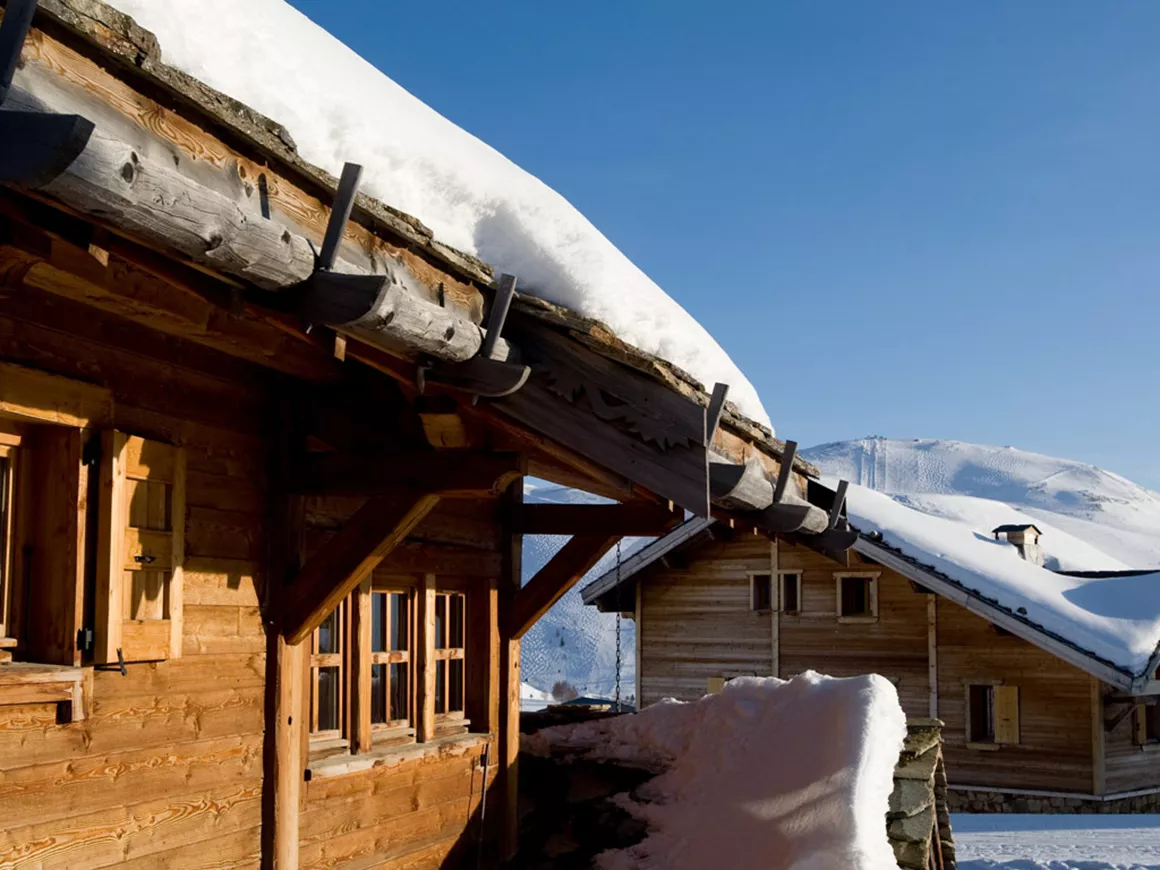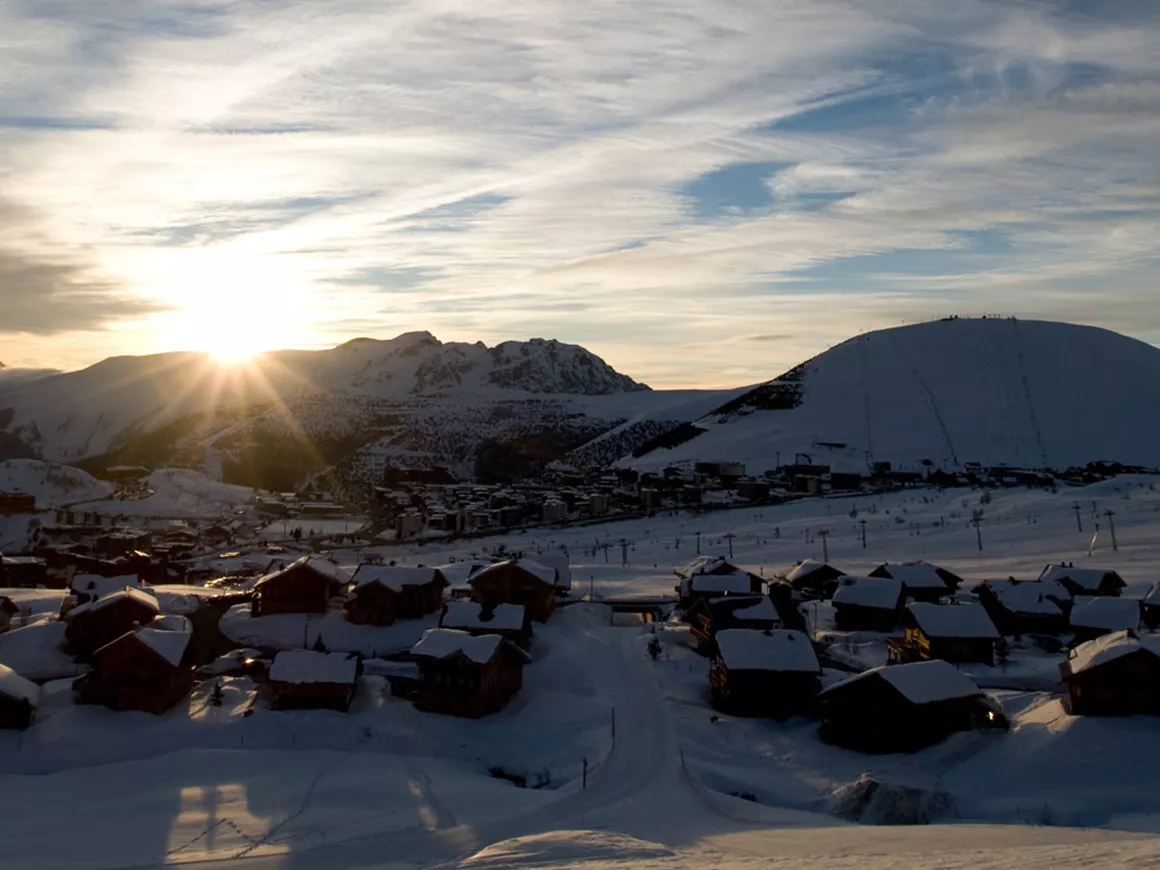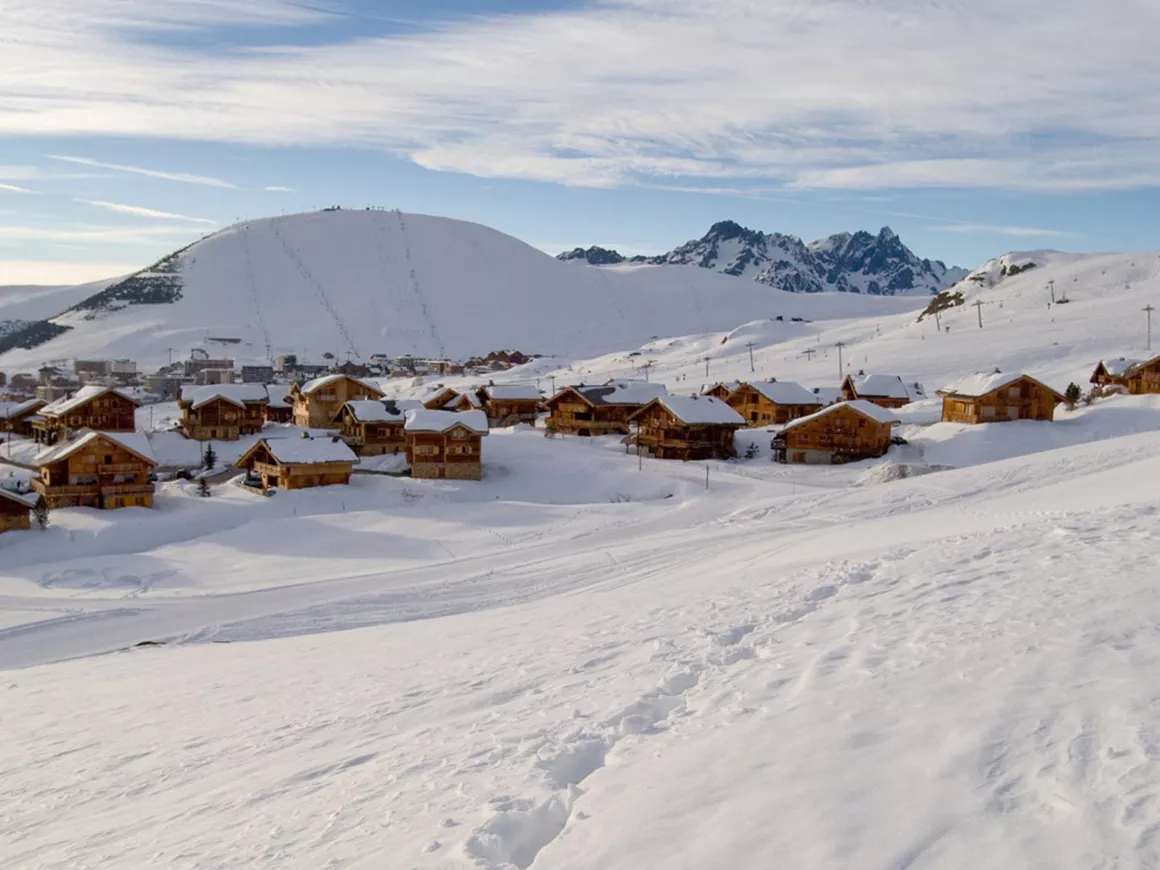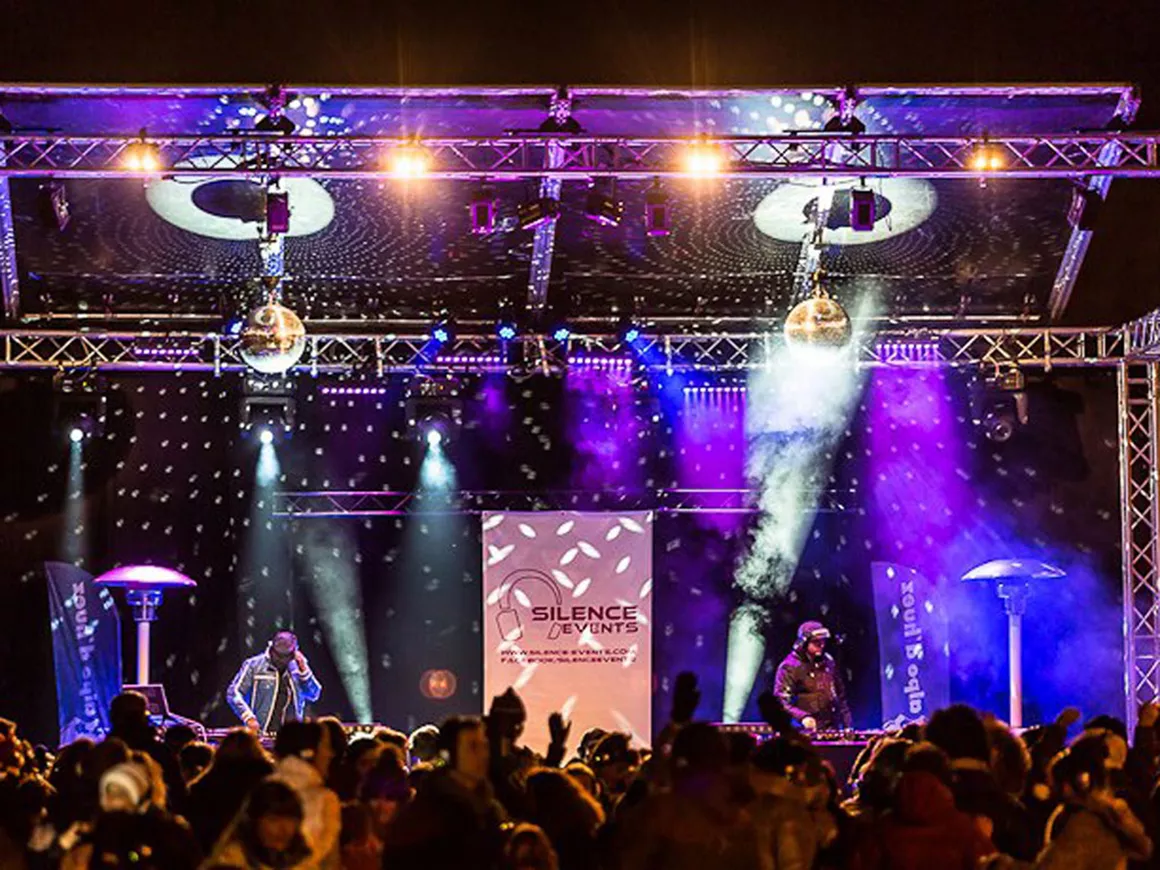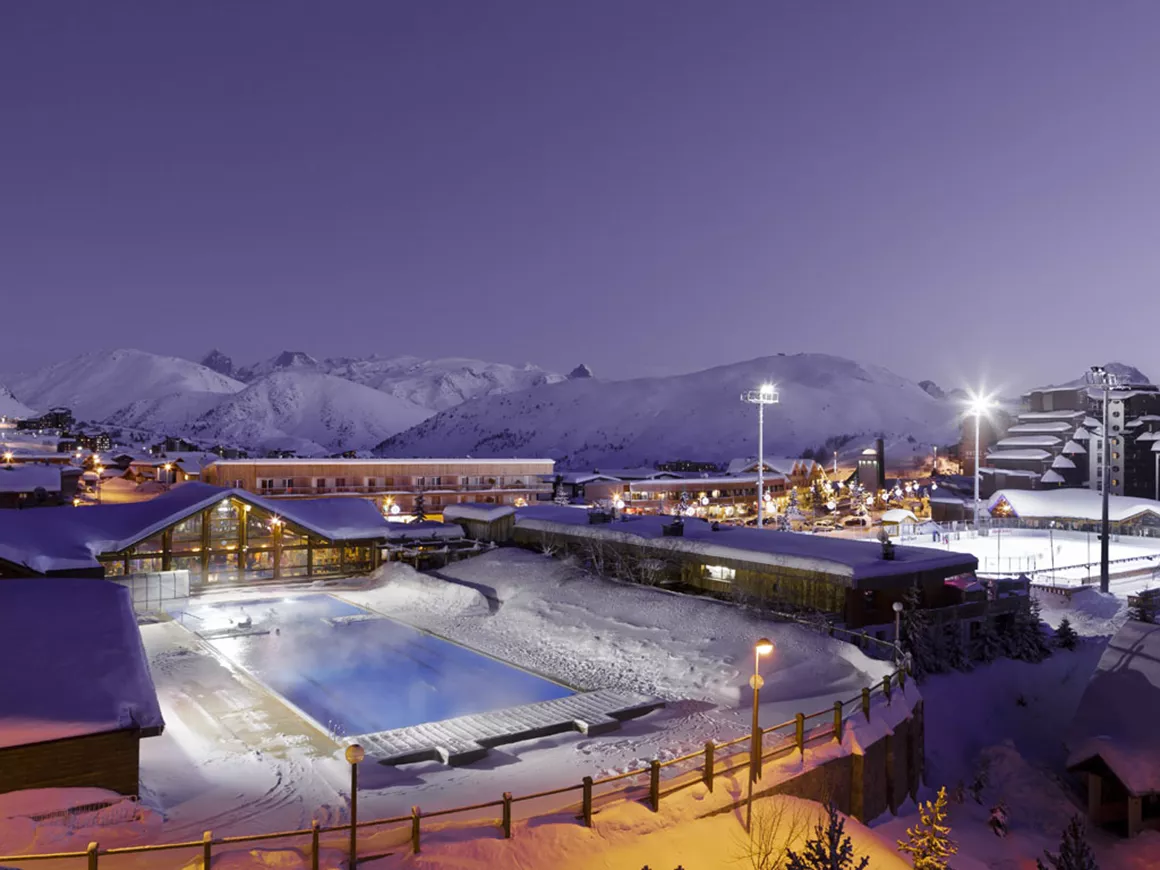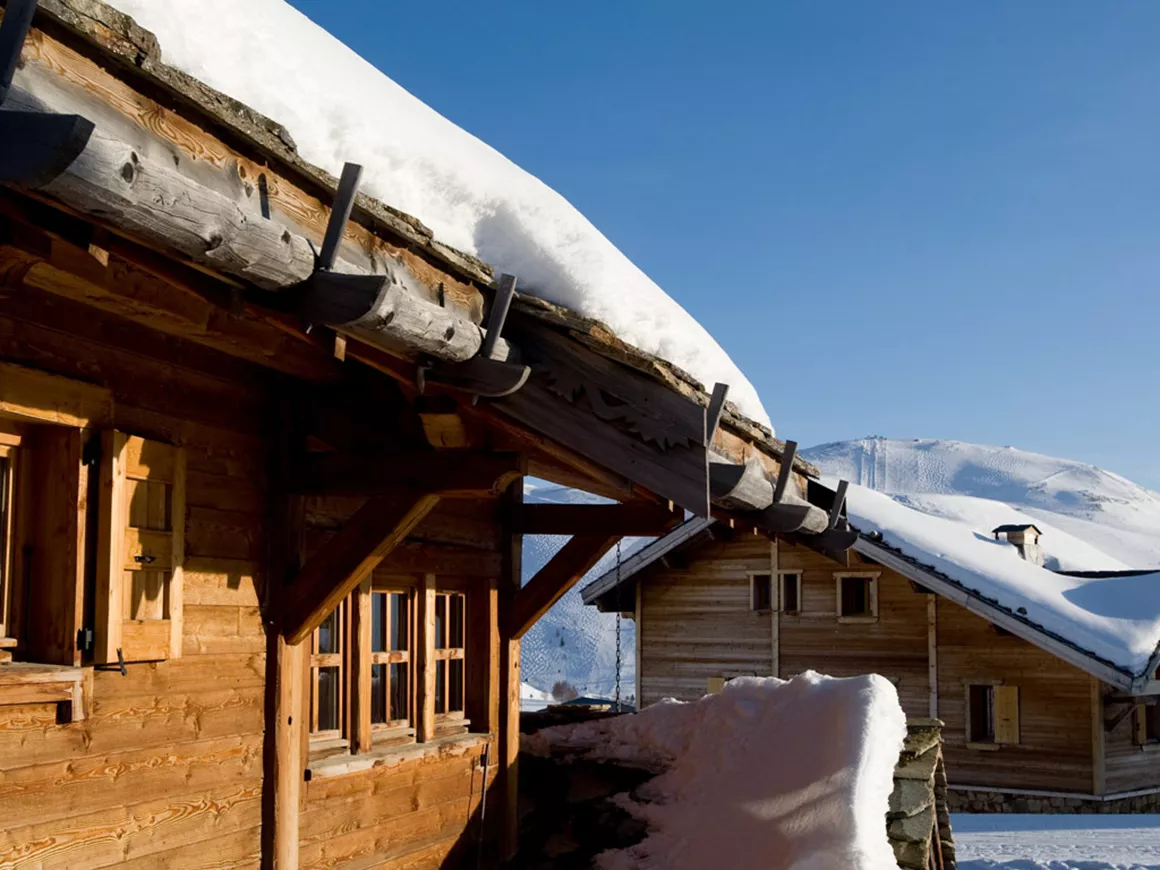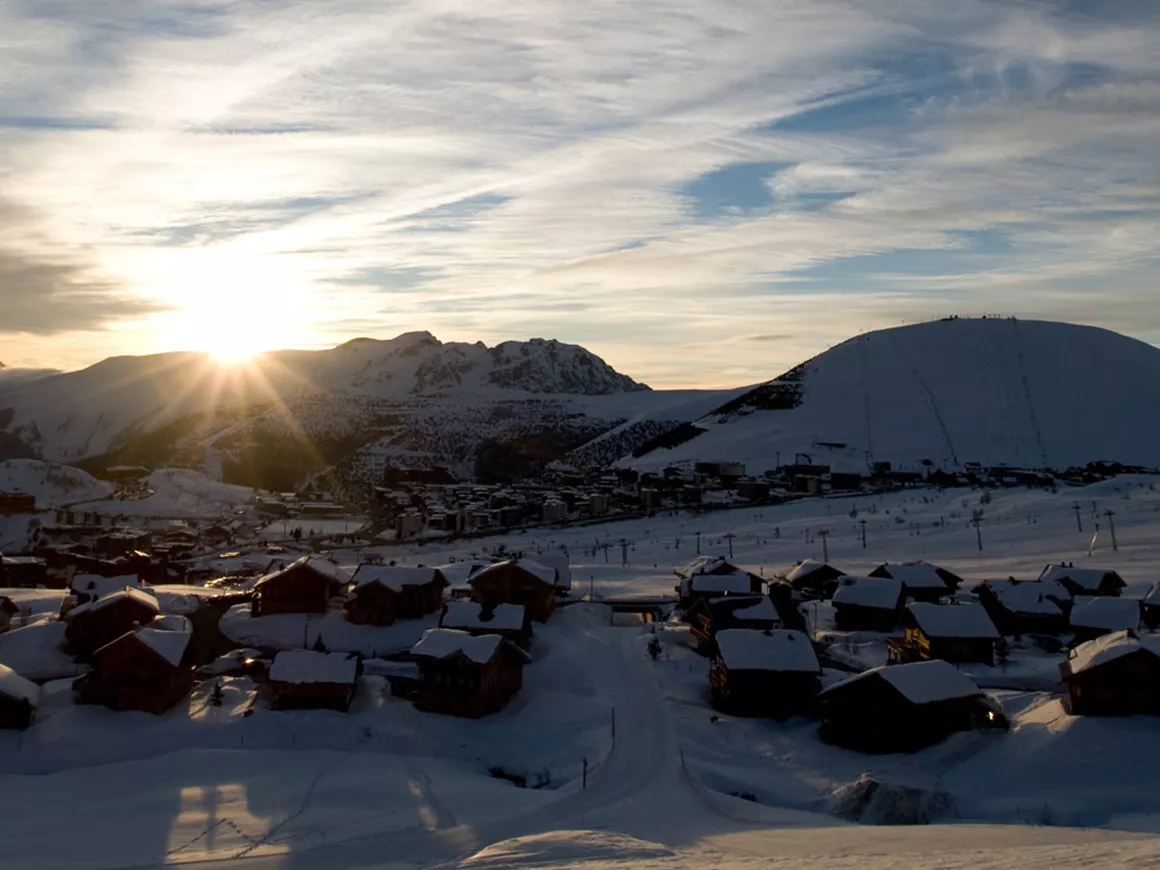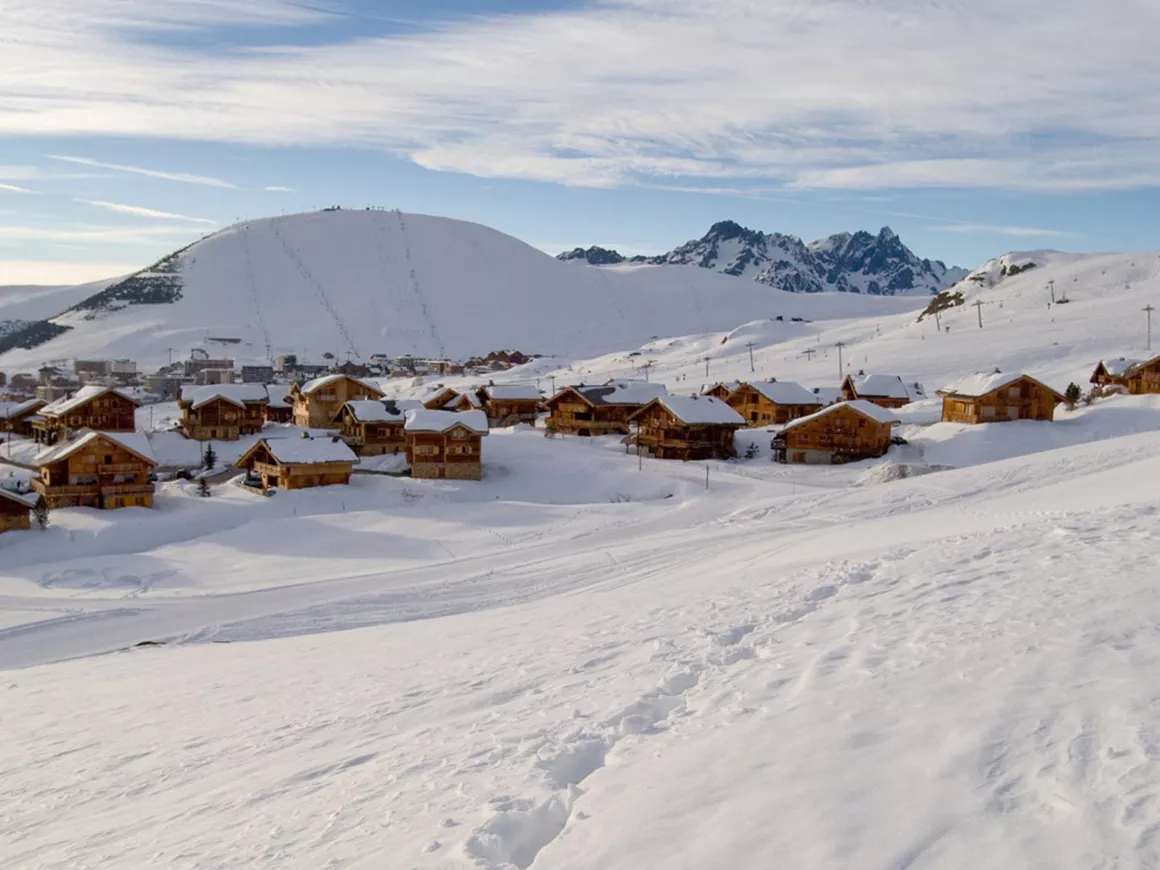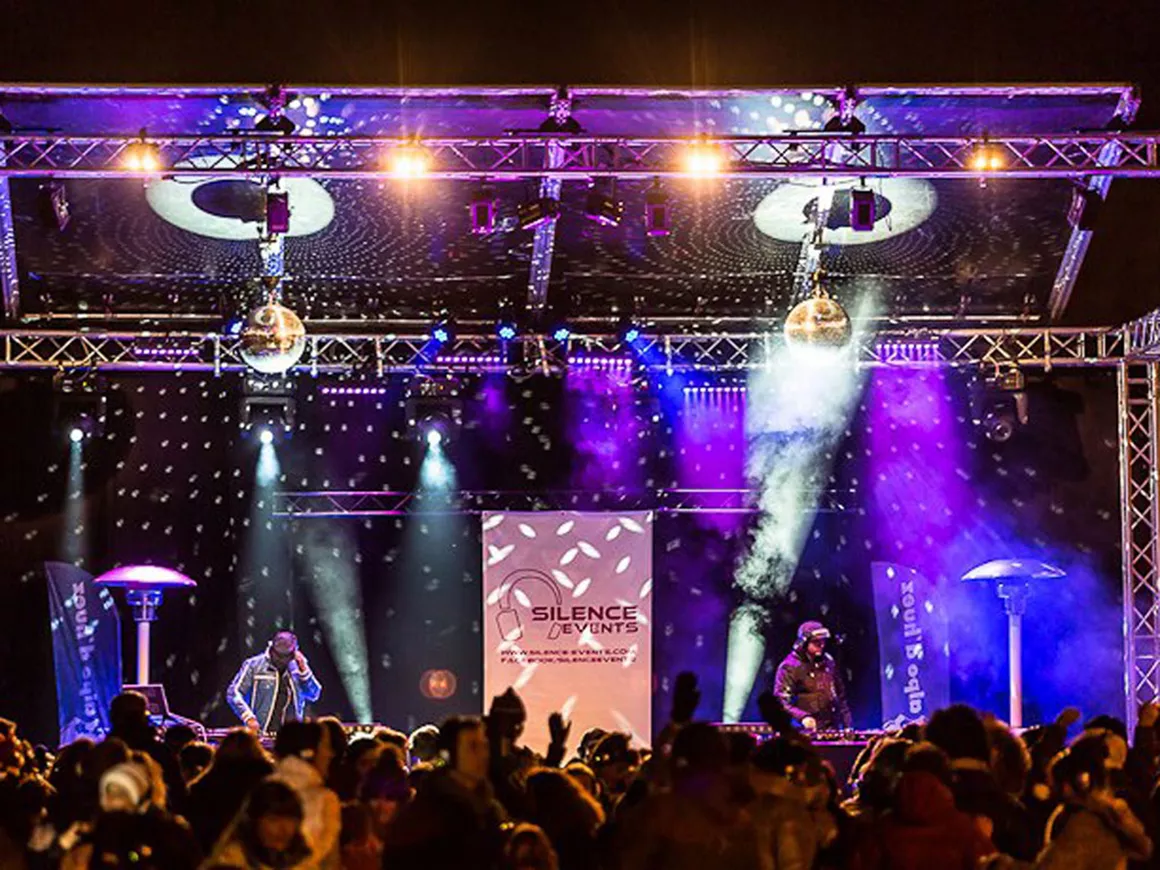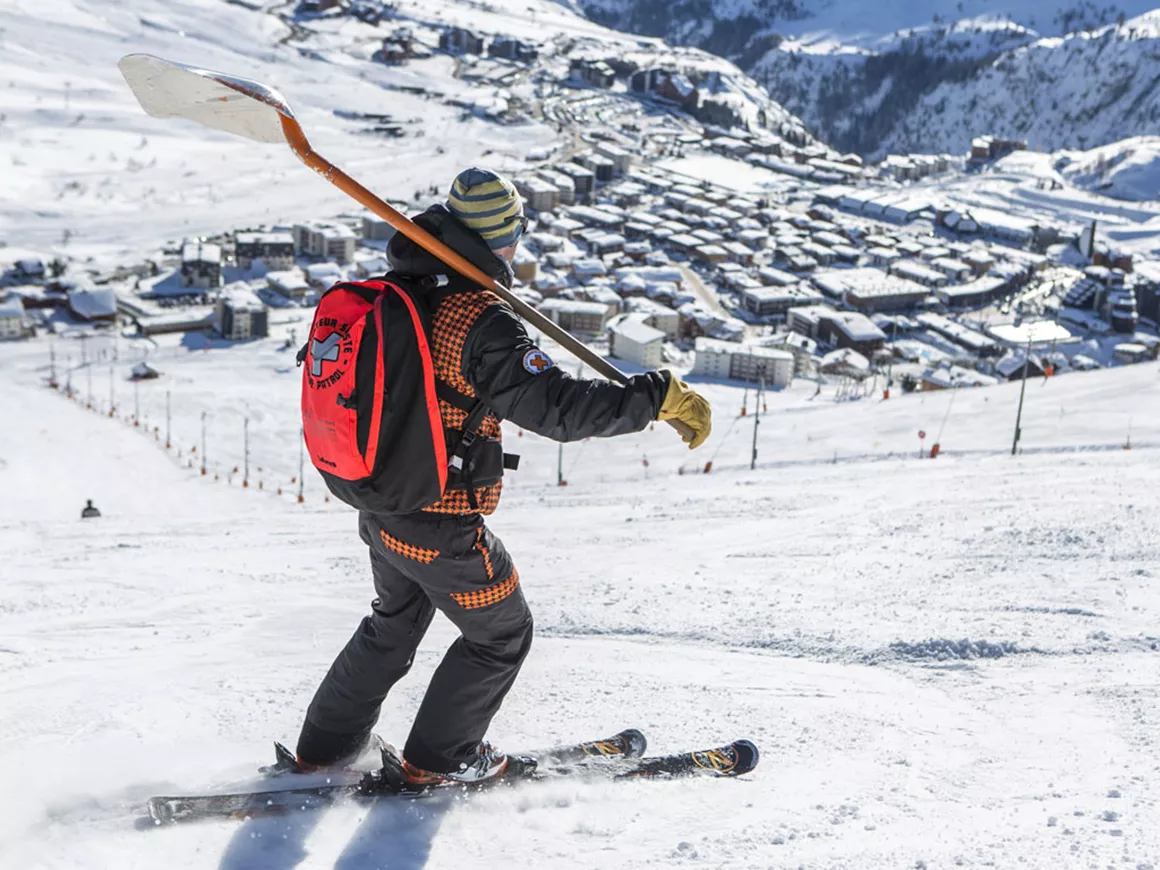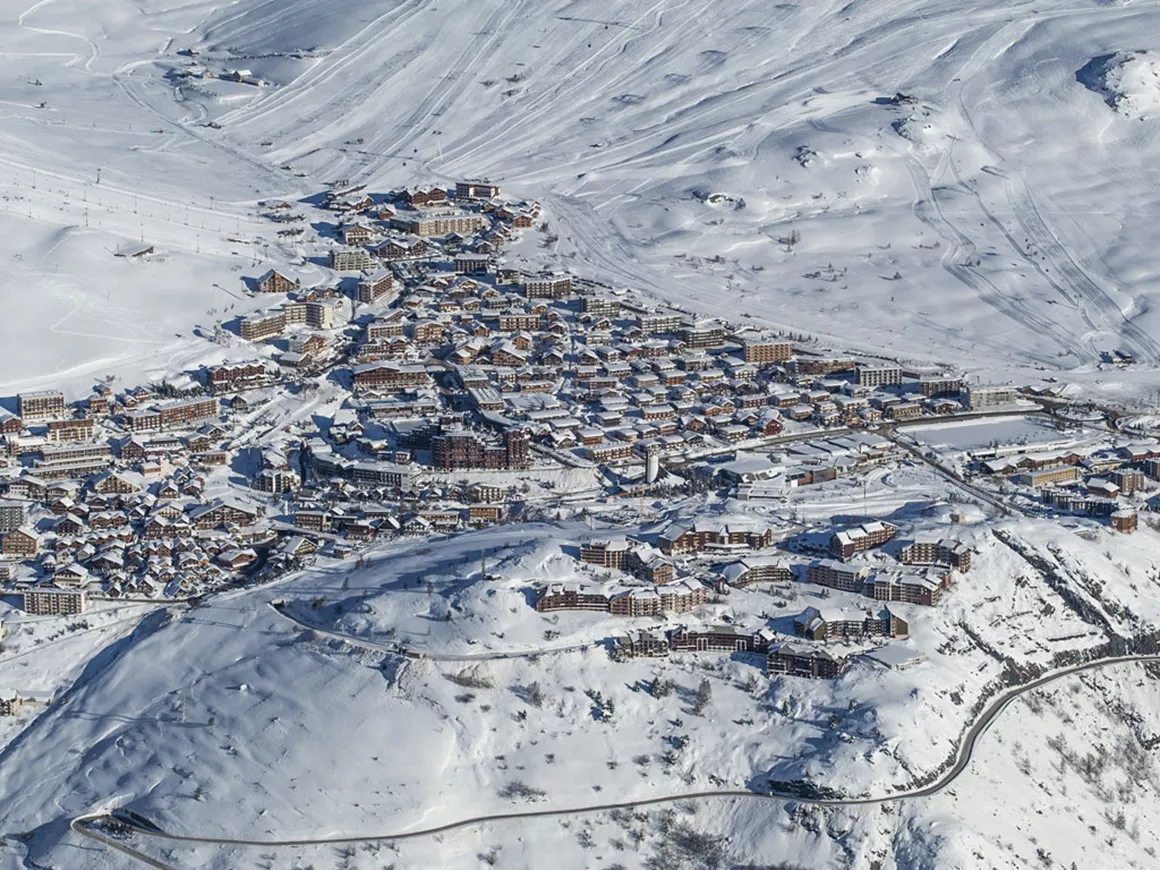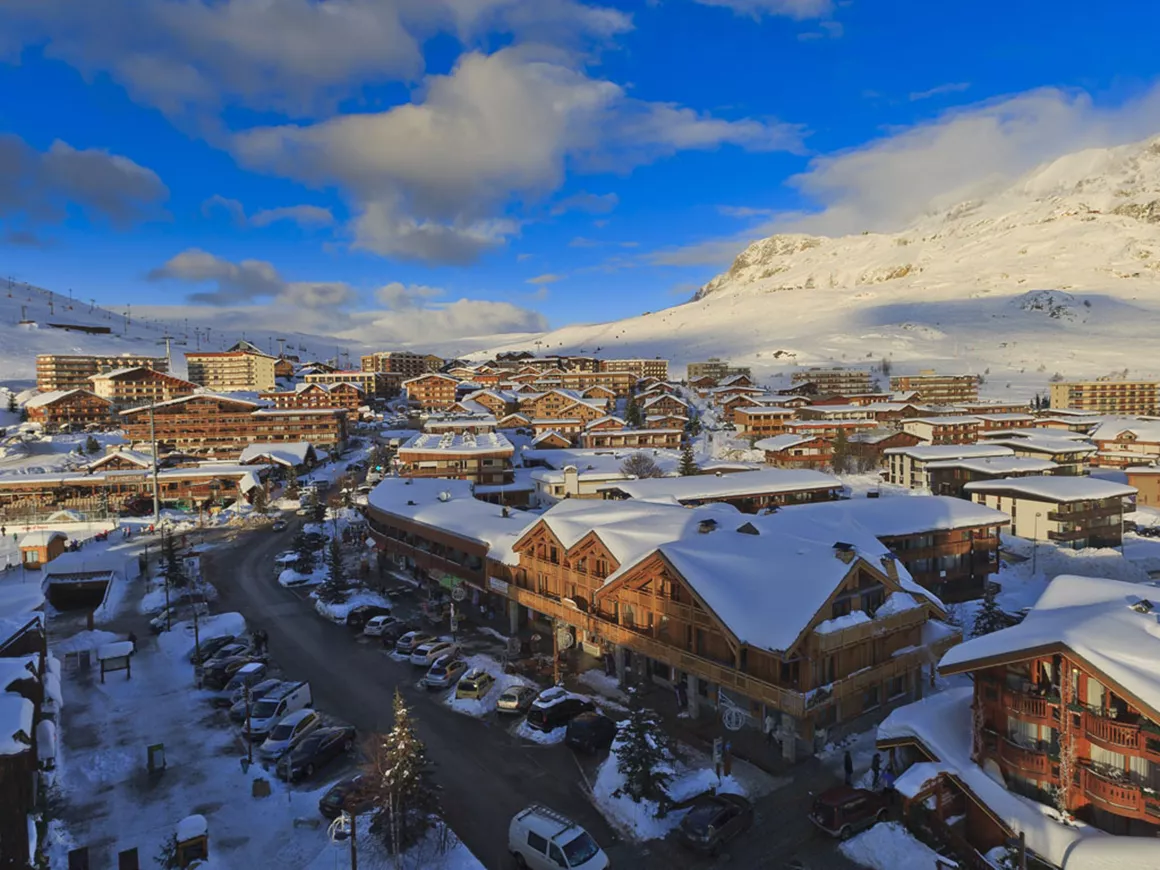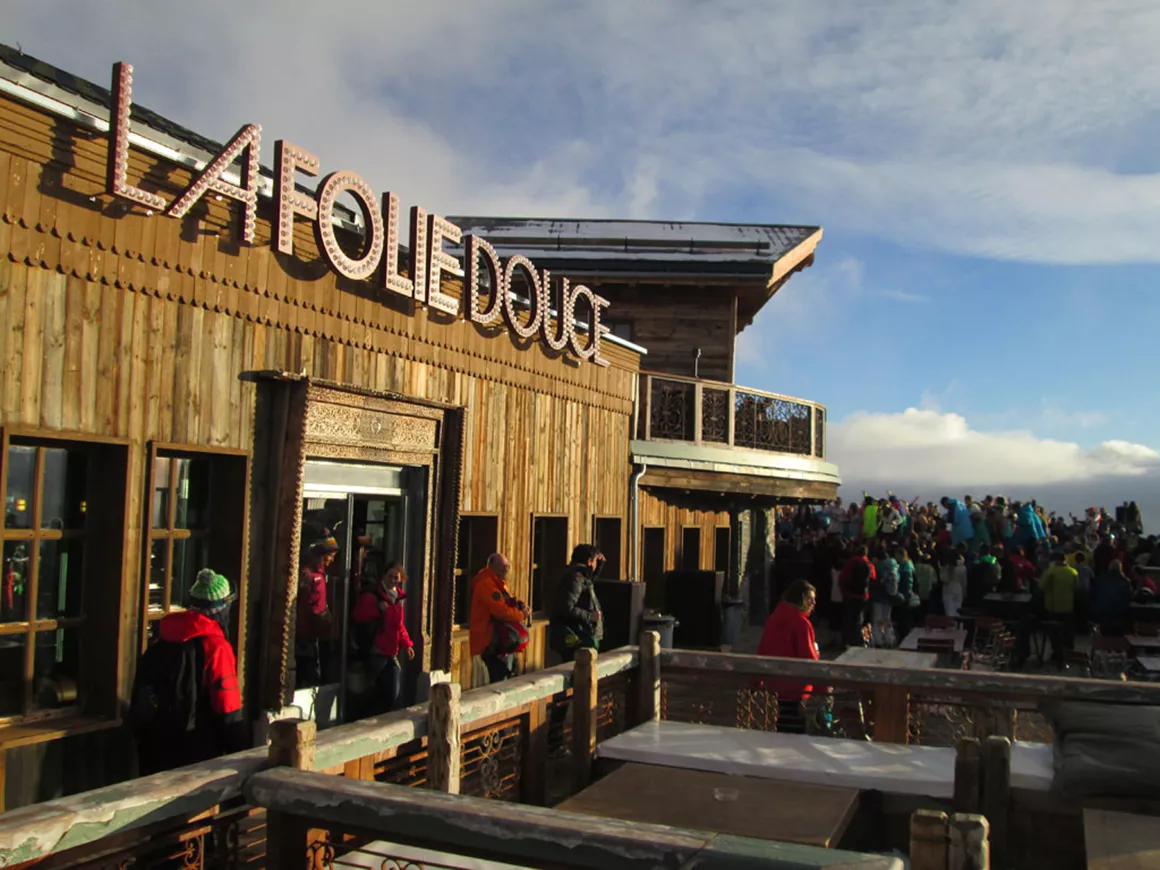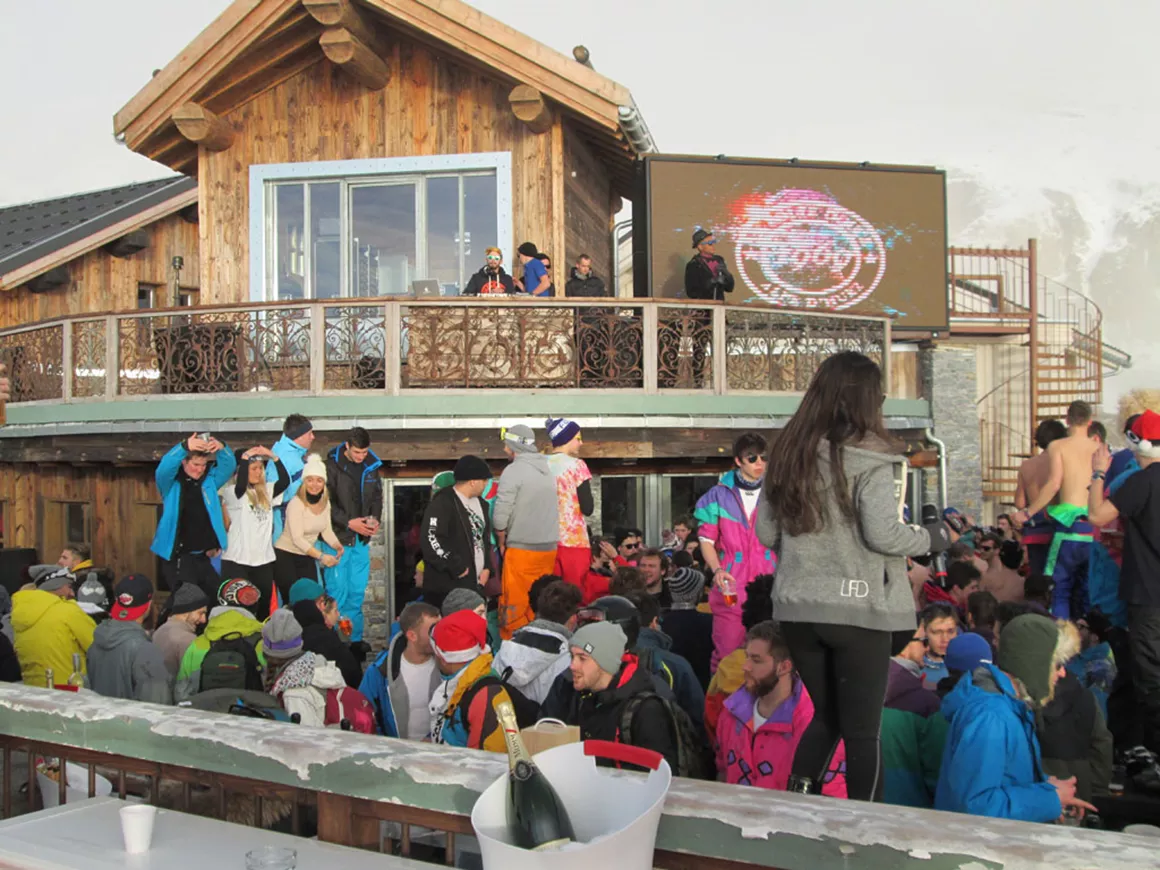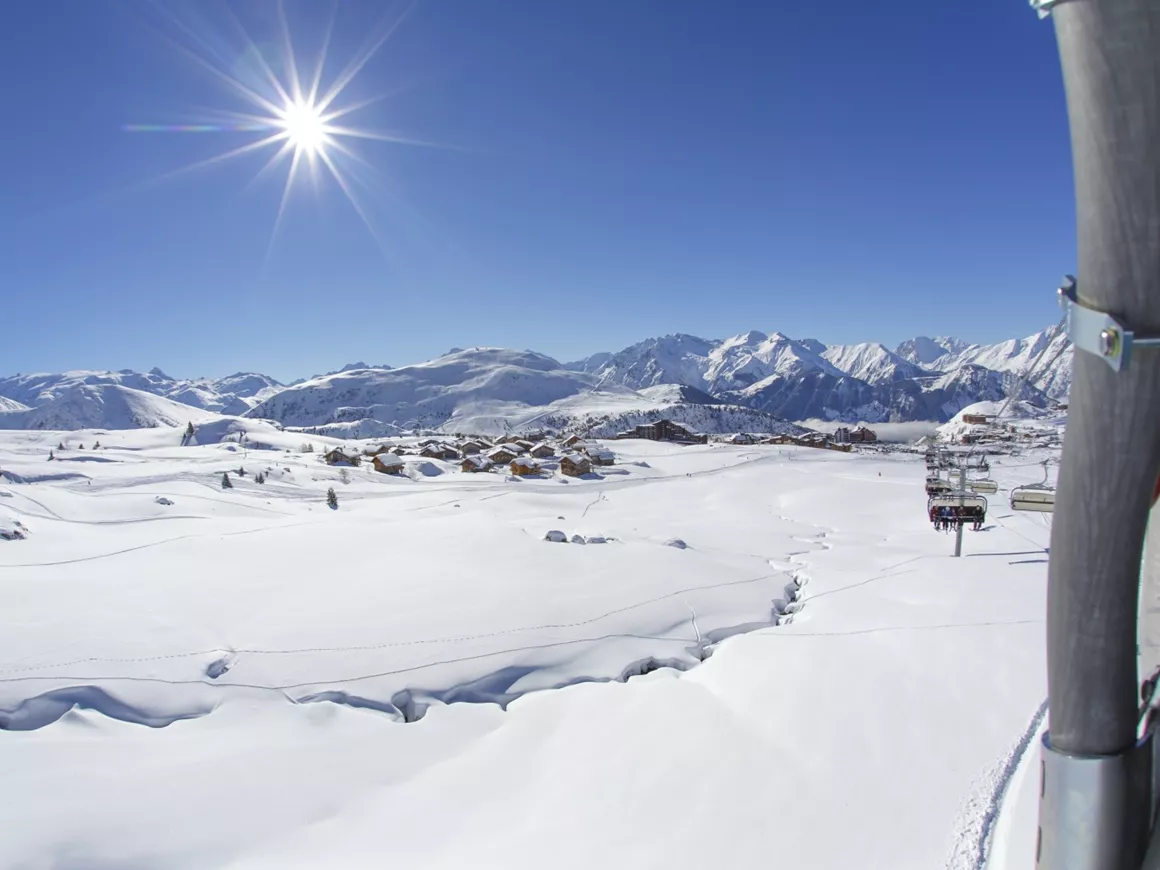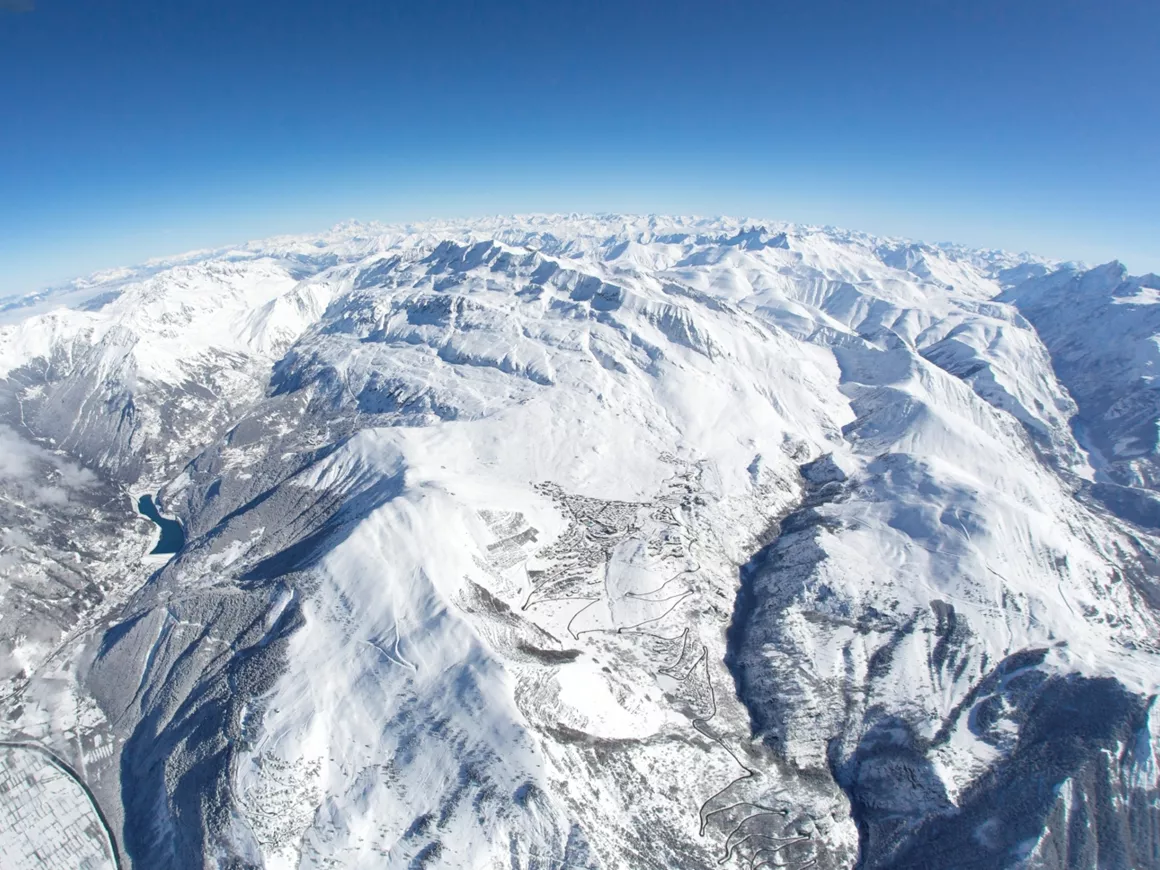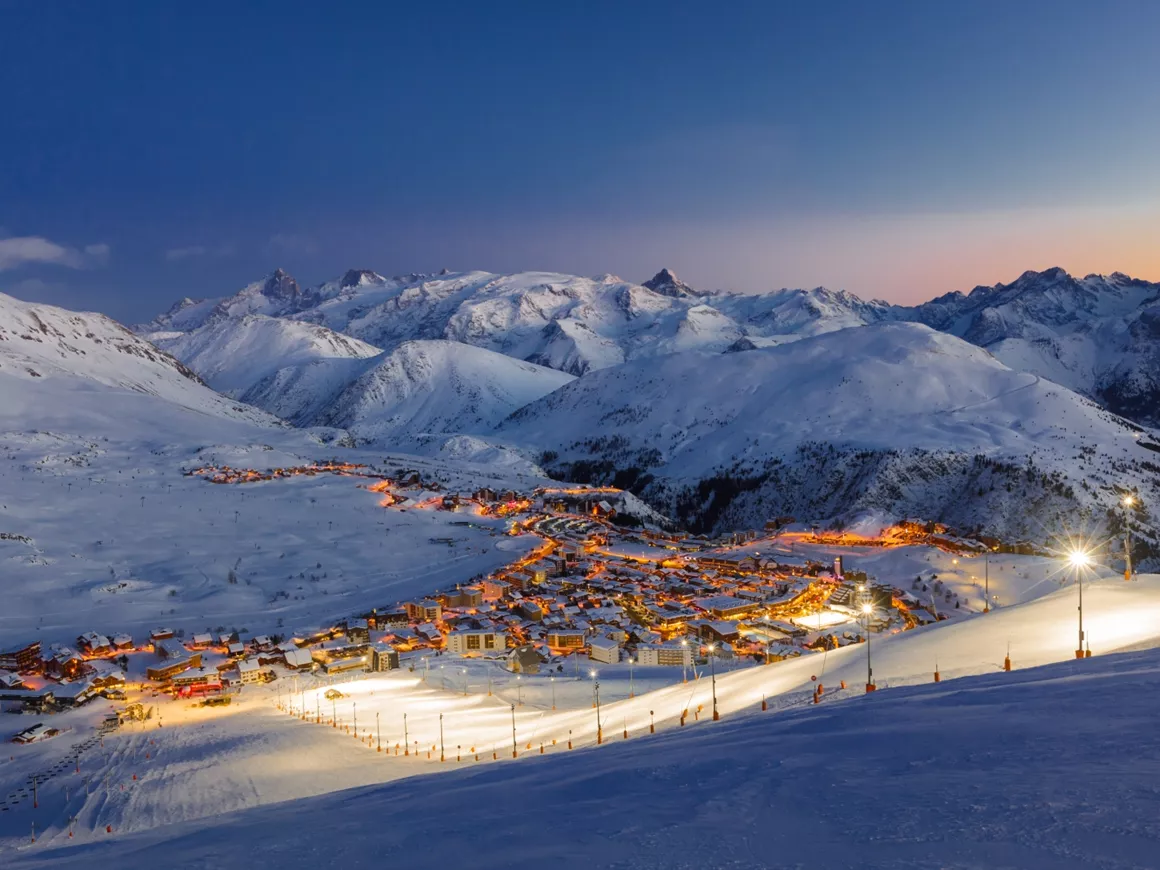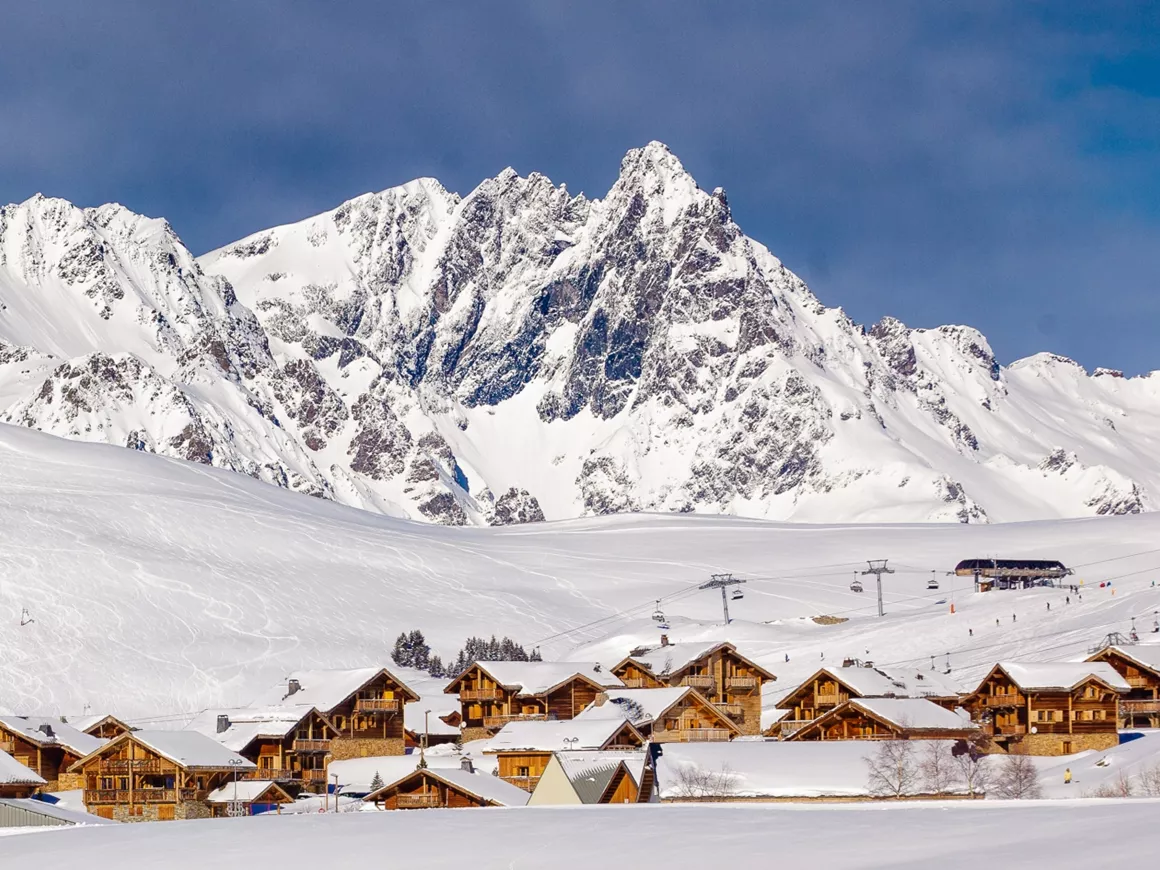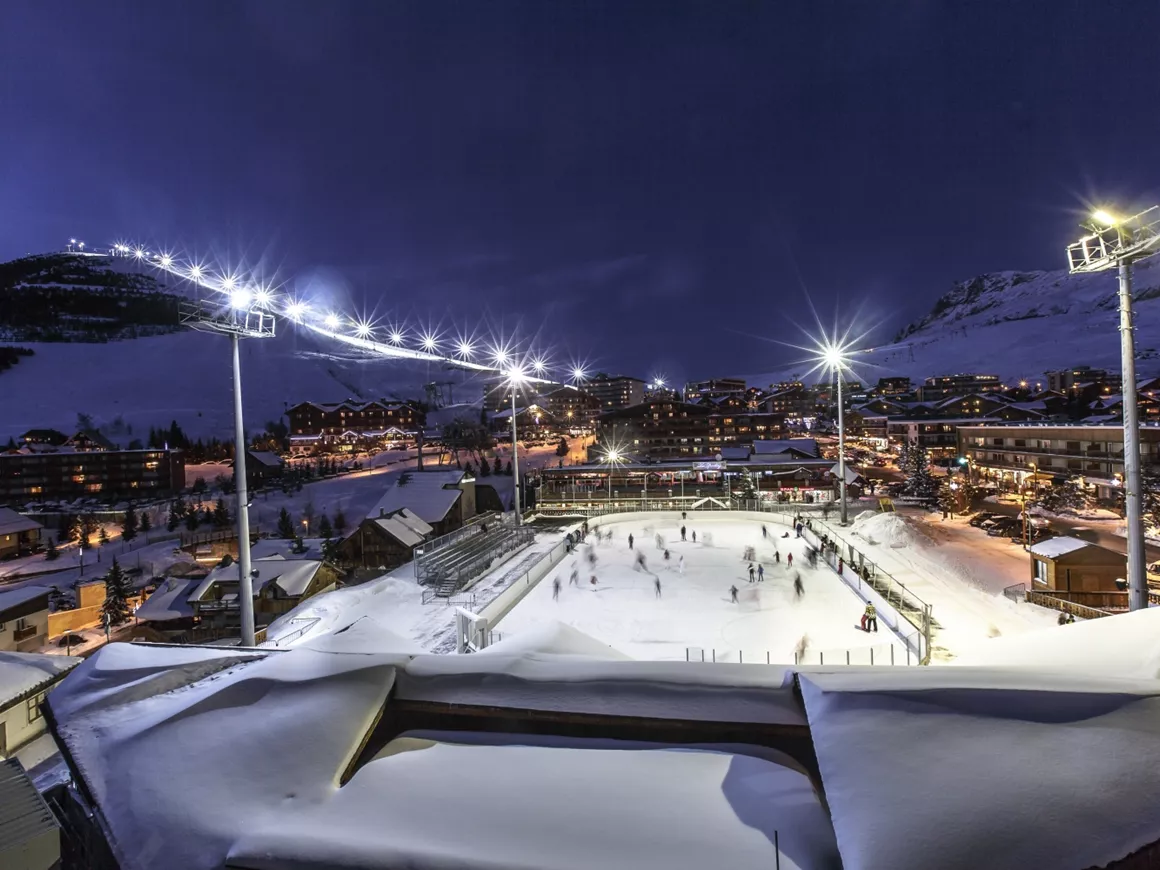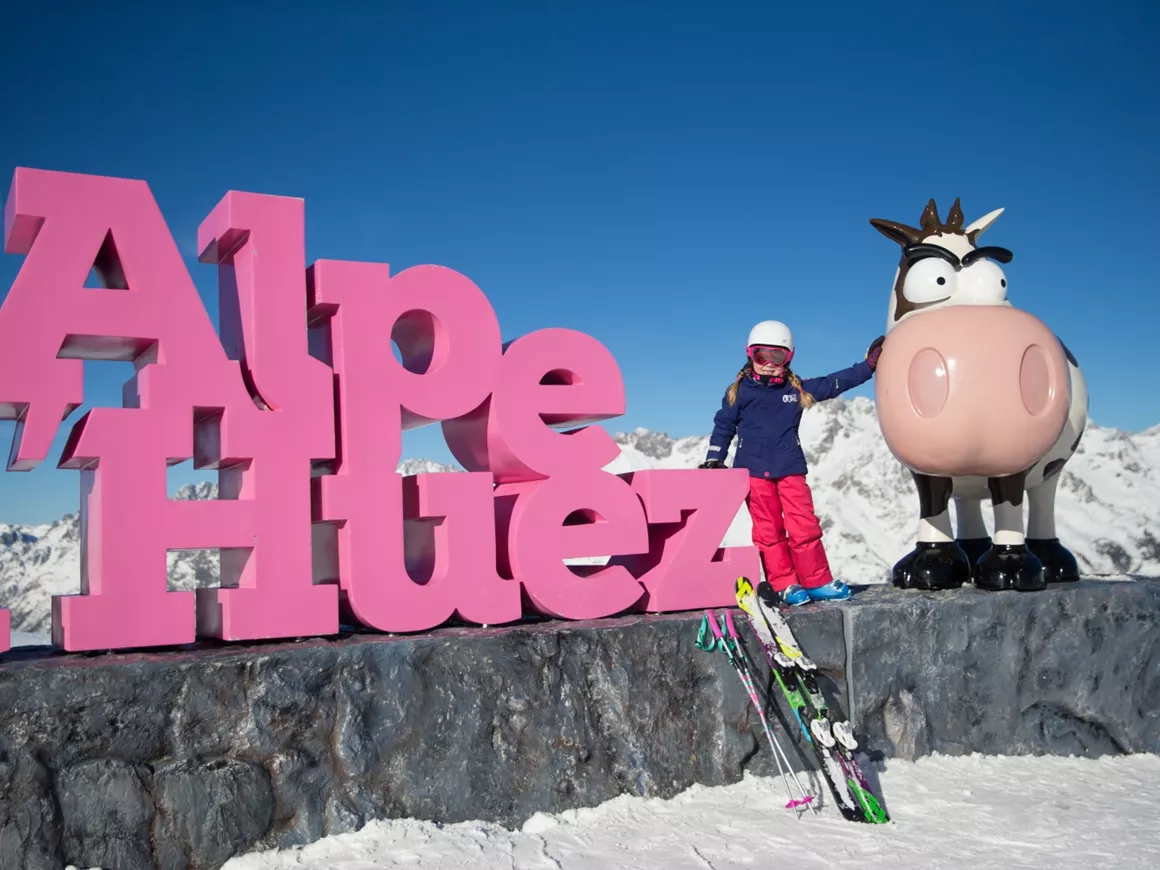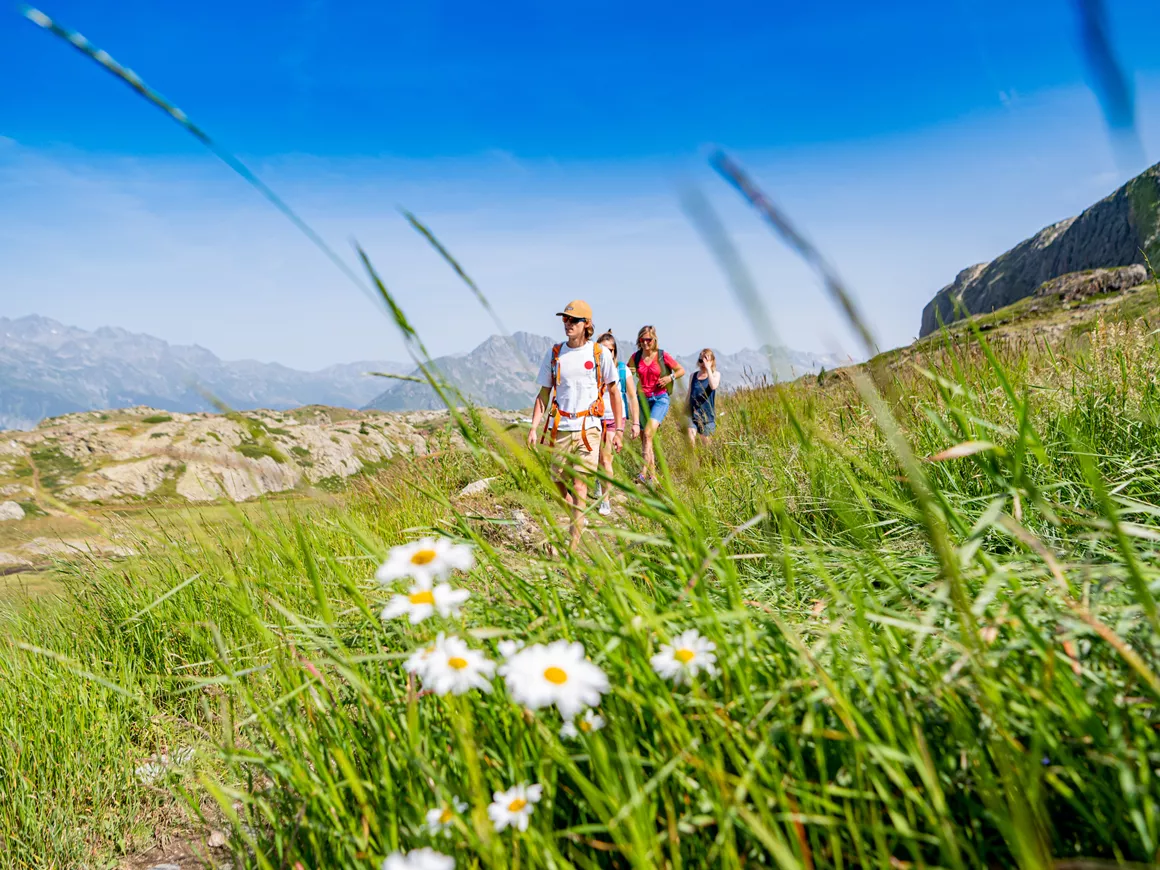 Today
Bright sunny weather
Tomorrow
Regular sunshine with some clouds
Après-ski & nightlife in L'Alpe d'Huez
Ski schools & ski lessons in L'Alpe d'Huez
Number of Ski Instructors
350
Ski lessons in Nederlands
Book your ski school online in L'Alpe d'Huez
Adult Ski Lessons
6 offers available
Snowboard Lessons
8 offers available
Kids Ski Lessons
13 offers available
Off Piste Skiing
1 offers available
Facilities in L'Alpe d'Huez
Number of tourist beds
908
Tourist information for L'Alpe d'Huez
Name
Alpe d'Huez Tourisme
Distance to L'Alpe d'Huez
Distance from Brussels
approx. km
Airport
Grenoble Isère approx. 99 km with bus service
Train station
Grenoble approx. 63 km with bus service
From the highway
approx. 60 km 1-minutes drive
L'Alpe d'Huez for the children
Number of hours of childcare
8 hours a day
After skiing in L'Alpe d'Huez