Skiers in the French Alps are bemoaning the hard, icy conditions and lack of fresh snow this ski season. In most French ski resorts, it hasn't snowed since Christmas. While locals blame the dry weather on the effects of climate change, skiers and snowboarders in the French Alps can only hope that the multiple feet of fresh snow that fell on Austrian ski resorts this week will also bless French ski resorts soon.
French ski resorts relying on artificial snow
It's been over a week since a lucky young boy caught in an avalanche after a fresh dump of snow on Boxing Day was rescued after being buried under the snow for 53 minutes. Since then, it hasn't snowed, and the avalanche risk has dropped considerably in most French ski resorts. On the flip side, the pistes are now hard and icy, with a shallow snow base. Although cold temperatures mean ski resorts are able to cover their slopes with artificial snow, the underlying snow pack is still of inferior quality to natural snow. Temperatures are predicted to remain cold over the next few weeks, with possible flurries next week on Tuesday and Wednesday.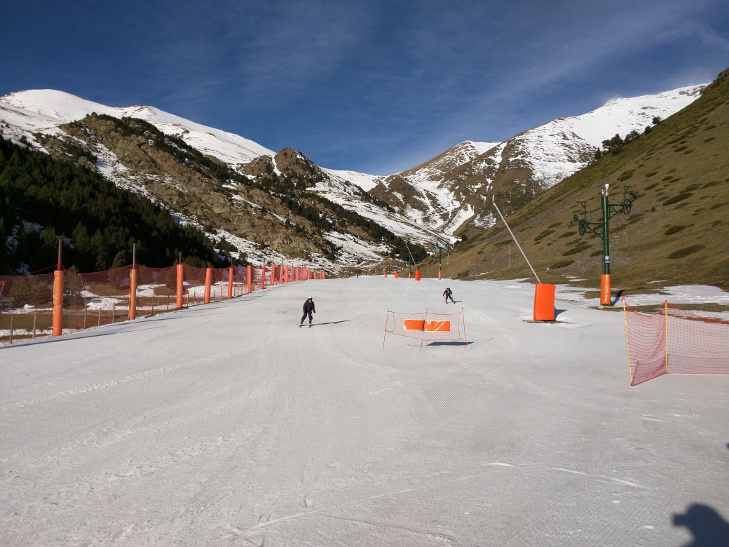 Early-season skiing this year suffered from a lack of snow
Climate change to blame for melting snow in the Alps
A 2017 study published in the Cryosphere warned the Alps face significantly shorter ski seasons and up to a 70% decrease in snow cover in the Alps by the end of the century if we don't take steps now. Climate change is already responsible for melting glaciers across the Alps – so much so that Tignes is considering building an indoor ski slope on what was once a year-round glacier ski area. In a desperate effort to maintain profit levels, ski resorts have been investing in artificial snow infrastructure. But the high cost of producing artificial snow is a blow to smaller ski resorts, which stand to face increasing financial difficulties over the next few years if snow conditions continue to deteriorate. That's not to mention the environmental costs of producing artificial snow – researchers have argued that the short-term gain comes with long-term ramifications such as the depletion of water reserves.
How do ski resorts hope to fight the lack of snow due to climate change?
More and more resorts have turned to snow farming, the practice of covering large patches of snow in insulating material like sawdust to preserve them for next winter, in an attempt to extend the ski season. Meanwhile, a start-up in Austria called Neuschnee ("new snow") has been experimenting with creating artificial snow, not with snow cannons, but with cloud chambers, which emulate the way real snow is produced. The results are promising, with the founders hopeful they will be able to consistently produce high-quality snow at warmer temperatures than traditional snow cannons. A ski resort in America recently went 100% solar-powered, and skiers and snowboarders around the world have been slowly adopting green initiatives and eco-friendly ski and snowboard gear. So, it looks like the Alps have a future, even if we can't rely on Mother Nature. But we all have to do our part if we want to keep those mountains white.