Ski holidays in United States
Ski holidays in America offer everything you would expect from a perfect ski or snowboarding holiday. However, ski resorts in the USA have a few little extras tucked up their sleeves! They offer large, wooded ski areas many of which are at well over 2000 meters and often even over 3000 meters above sea level. The ski slopes, like most other things in the States, are immaculate. There are first-class services with friendly staff and highly efficient, modern ski lifts with no waiting everywhere you look. Ski resorts in America are a lot less cramped and offer airy, spacious accommodation in the American style and which is, more often than not, right on the slopes.
Probably the biggest highlight of skiing in America is that you will find some of the best snow in the world - at least that's most skiers and snowboarders say when they get back from their ski holidays in America! If you're not sure where to go for your next ski holidays, with Snowplaza you can start your ski trip in the USA right here and now! Find the best American ski resort to suit your needs, get in the mood by looking at some beautiful photos, check out the piste maps, ski pass prices, webcams, weather conditions (during the season) and much more about skiing in North America.
Ski resorts in America at a glance
The best skiing in America is to be found in the highest mountains of the United States - the Rocky Mountains - especially in the two states of Utah and Colorado. Due to the climatic conditions, the tree line is higher than in the Alps, and this means you can enjoy lovely tree-lined pistes even at higher altitudes. One of the highest and most popular ski resorts in America is Breckenridge, about 120 km west of Denver and its airport. Wide, off-piste slopes with unbelievably deep snow and about 150 kilometers of pistes are just waiting to be explored on your ski holidays here.
Another top ski resort in America is Steamboat. In this American ski resort you will find the world-famous "champagne powder" snow and about 160 km of perfectly groomed slopes. By far the most famous ski resort is in America is Aspen in Colorado. In the Aspen area there are actually four ski resorts totaling around 480 kilometers of slopes plus vast off-piste areas for almost unlimited skiing and snowboarding pleasure. On top of the great skiing, there is the glitzy, glamorous Hollywood feeling and the Wild West atmosphere completely unique in the world. Once you ski in America, you may never want to ski in Europe again!
Ski on the best snow in the world in American ski resorts
You've already have heard of the famous "champagne powder" found in American ski resorts. This extra-light, dry, powdery snow can only be found on the slopes in the Rocky Mountains. The reason being that it snows more often here and more heavily than in the Alps, and the lower humidity levels assure the ultra-dry snow stays dry and powdery for much longer. With these 2 factors combined, you are pretty much guaranteed to ski on fine, powdery snow in ski resorts in America whenever you decide to go – except maybe at the end of the ski season when you will be able to enjoy high temperatures and lovely spring skiing conditions. Fans of deep snow and powder skiing can experience some unforgettable off-piste skiing (or backcountry skiing as it is known locally) through the forests at high altitudes in most of the American ski resorts.
American ski resorts – the safest place to ski
Considering a large part of the ski areas in American ski resorts are designated for more advanced and expert skiers who often like to go off-piste, the general policy in these ski resorts is to make every "slope" skiable within the its ski area. This means that the off-piste skiing is still within safety boundaries and the only real difference is that the piste bashers leave these areas alone so you can enjoy the wonderful deep snow! This policy is very popular with off-piste fans as it means you can ski just about anywhere without needing a guide and/or additional safety precautions as the areas are patrolled. This comes as a welcome change from the European situation where off-piste really does mean you are outside the boundaries and skiing in an unpatrolled area at your own risk – which can sometimes be a little daunting and puts many skiers and snowboarders off trying this wonderful variation of classic on-piste snow sports! Another point that ensures a better level of safety is the American "obsession" for perfection. You will very rarely come across bumps, rocks or icy patches on the slopes in ski resorts in America as they will have been dealt with by a very efficient ski area maintenance team before you've even finished your delicious American breakfast.
Events and apres-ski in American ski resorts
Another special thing about skiing in the USA is certainly the "extra large" factor that you find right across the nation. While on your ski holidays in America, you will notice the enthusiasm and generosity of the American people who are very laid back, like to laugh about themselves, and are extremely friendly and talkative. Combined with the numerous apres-ski activities, you are in for some very lively, fun ski holidays with something for the whole family. Add to this an extra helping of excellent service – you will often be offered free cookies or muffins to enjoy on the ski lifts – and your ski holidays will get off to a very good start! You will find the best apres-ski and nightlife and the most lively atmosphere in Aspen or Breckenridge. Both ski resorts regularly organize high-profile events keeping holiday makers in a good mood on their ski holidays. Even if you go skiing alone in the America, you will not get bored in the Rocky Mountains.
Travelling to American ski resorts
Getting to ski resorts in the Rocky Mountains is pretty simple with flights to Denver in Colorado being around 9 hours if you choose a direct flight and around 12 with a transfer. Flights to Salt Lake City in Utah are around 13 hours and direct flights are pretty hard to come by. Flights to both cities go from all major UK airports. Even though the flights are long, the transfer times once you arrive are relatively short – most of the top ski resorts are only a 1 or 2 hour drive away with the ski resort of Deer Valley, Park City at only 45 minutes from Salt Lake City airport! Shuttle buses run from Salt Lake City airport to most of the ski resorts in the area but it is generally advisable to book a hire car to get around quicker and to explore the region independently.
Is skiing cheaper in America?
If you don't count you flights and you look around, you can certainly spend around the same amount of money on a week's ski holiday in the Alps as in the Rocky Mountains. Accommodation, ski and snowboard equipment, car hire and ski passes prices are comparable with ski resorts in the Alps – of course depending if you choose a luxury or more low-budget ski resort. Ski holiday packages to America are available everywhere on the net.
Our favorite ski resorts in America
After having tried a few ski resorts in the USA, the following stood out from the crowd. Anyone who has been in Aspen, will agree that the almost unlimited possibilities when skiing are unbeatable elsewhere in the world. If you've been to Salt Lake City, you will have no doubt appreciated the excellent snow conditions and off-piste skiing options. Those who have been to Breckenridge are certainly still raving about the outstanding leisure, apres-ski and entertainment facilities, and if you've been lucky enough to go to Keystone, you will probably have to go back for more thrills in the best snow park in the USA as soon as possible.
Snowplaza's recommendation
We suggest trying the Steamboat ski area to enjoy the beautiful slopes through the wooded areas which always makes skiing more fun and what's even more attractive here is the slopes are quieter than in other American ski resorts. Quite often you have the feeling you have the whole piste to yourself. The disadvantage is that the journey to Steamboat takes a little longer, because the ski area is about three hours away from Denver airport but it's certainly worth the effort. Wherever you spend your ski holidays in the America, with Snowplaza's advice and tips you are sure to have the best ski holiday ever!
Blogs about United States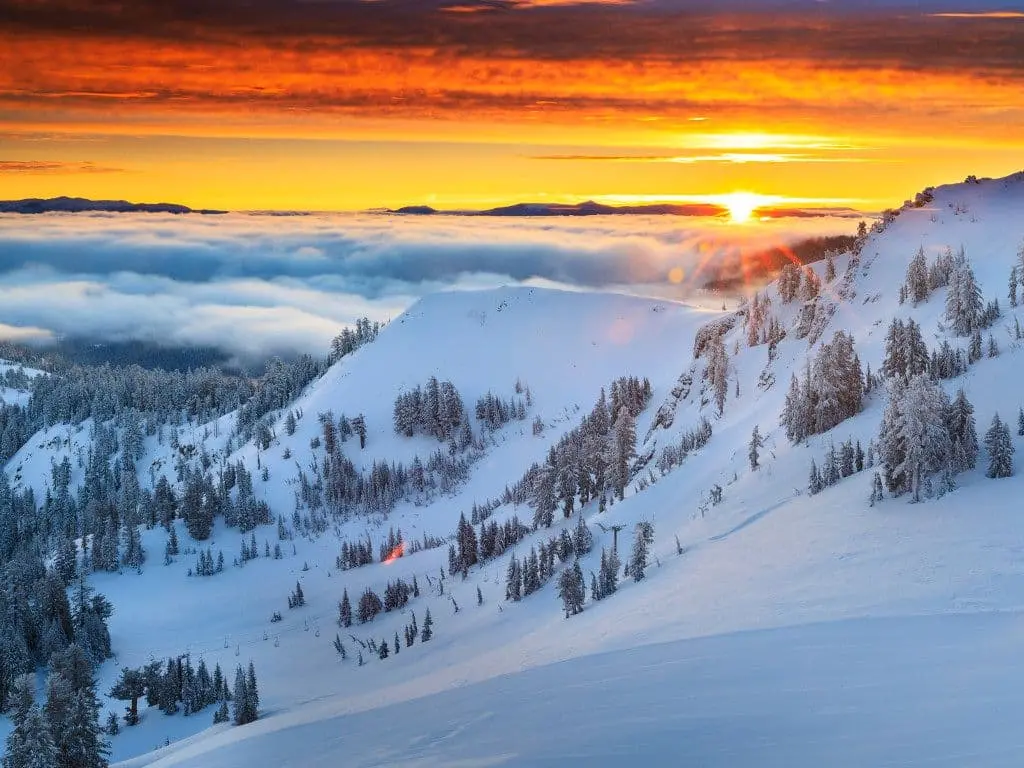 A ski holiday to the United States is on the bucket list of many skiers and snowboarders. But with so many resorts to choose from, it's hard to know where to start. From the former gold mining towns in Colorado to the sunny ski resorts of California to the legendary deep, dry powder snow of the Rocky Mountains, skiing in America is a once-in-a-lifetime experience where you'll get to know a new culture as well as some fantastic skiing terrain. Here are 9 of our top resorts in the US.... More ›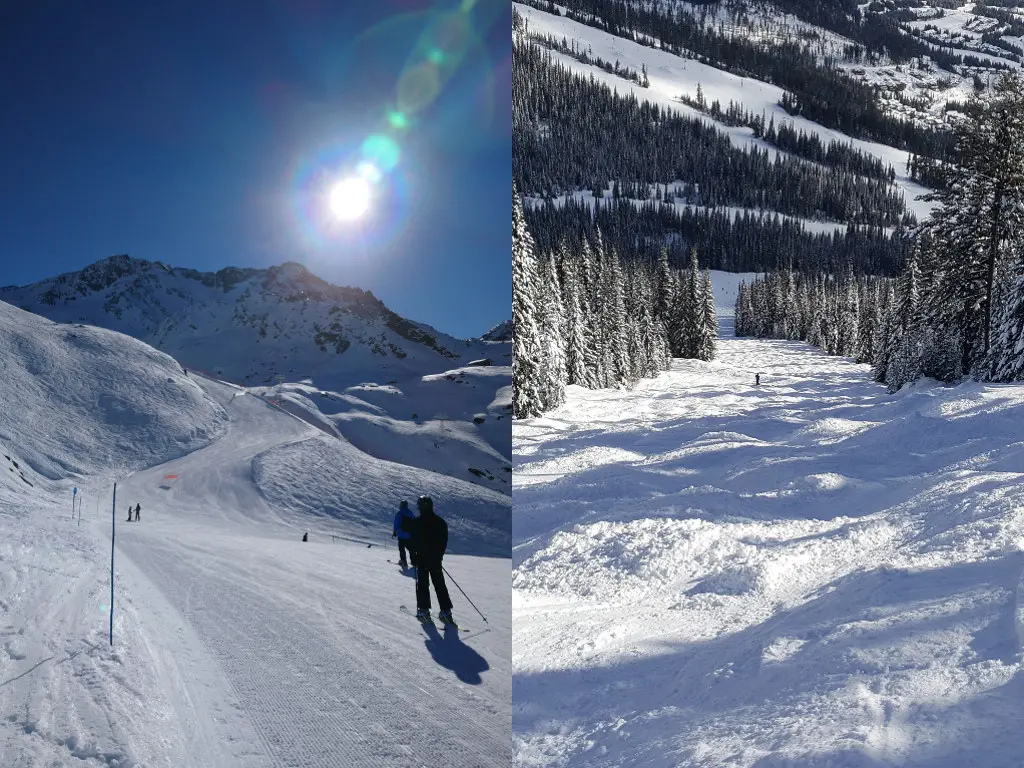 The Alps offer amazing skiing with panoramic views and après-ski to die for, but it's many people's dream to one day ski in Canada or the United States. Having skied in both continents, we can safely say there are definitely differences, but both Europe and North America have a lot to offer when it comes to skiing holidays! In this article we'll cover everything you need to know about the differences of skiing in North America vs. Europe. ... More ›