Aside from skiing and snowboarding, the Skicircus Saalbach Hinterglemm Leogang Fieberbrunn offers a selection of different toboggan runs, a fun option for young and old! Go on an old-fashioned wooden sledge, speed it up with a modern coaster or experience the beauty of night tobogganing on floodlit pistes. Either way, you're guaranteed to create some amazing memories! Here we give an overview of the different tobogganing options in the Skicircus. Have you tried tobogganing at the Skicircus? What was your favourite route?
1. Tobogganing on the Reiterkogel
Starting from an altitude of 1819m, the toboggan run on the Reiterkogel in Hinterglemm is open not only during the day, but also during the evening – we highly recommend an evening session if you've never tried before! The fresh mountain air and the starry night sky make the trip extra special. Daytime tobogganing is available from 9am til 4:30pm, and evening tobogganing is available from 6pm til 9:30pm, Monday through Saturday. The run measures 3.2km, with a 400m vertical drop. Riding on the lift is free for those who hold a valid ski pass, so you'll just need to cover sledge rental, which costs €8.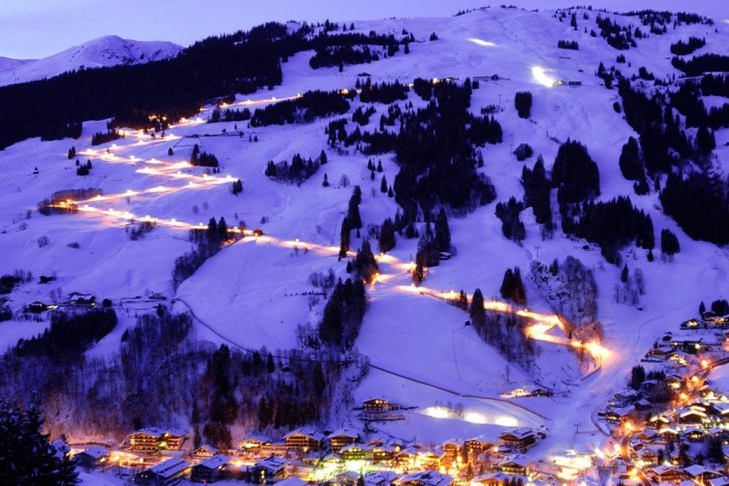 (Photo: © Saalbach.com)
2. Spielbergerhaus toboggan track
The toboggan run at the Spielbergerhaus comes with a special twist: you get there via piste basher! Escape the crowds with a ride in a piste basher up to an altitude of 1311m. Here you'll find the Spielbergerhaus, where you can enjoy a delicious traditional meal. Afterwards, you'll return to Saalbach via the 3.2km-long toboggan run. Sledge rental and the ride in the piste basher cost €9, not including supper. Reservations are mandatory.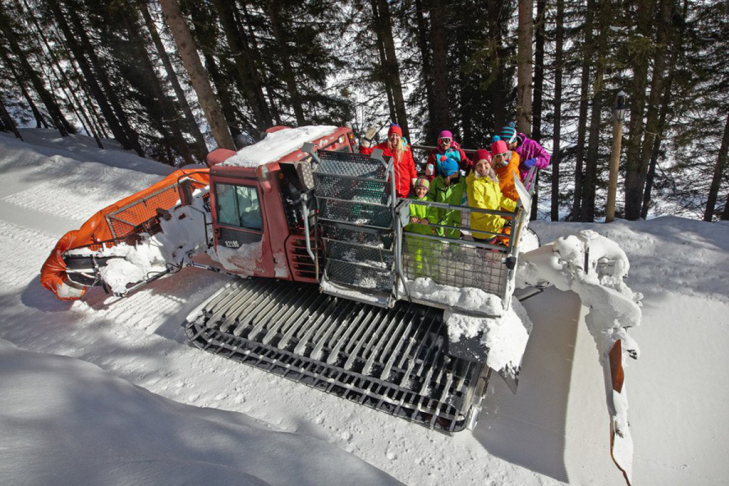 (Photo: © Saalbach.com)
3. Tobogganing in Leogang
Leogang offers sledging in the daytime as well as in the evening. The daytime toboggan track starts at the Asitzbahn midstation and measures 2.5km, ending at the Forsthofalm. It's open daily from 1pm til 4pm. The evening toboggan run is a little longer, running from the Asitzbahn midstation to the Asitzbahn bottom station in Leogang, for a total track length of 4.3km. Tobogganing in the evening is possible on Tuesdays and Fridays from 6pm til 10:30pm. Sledge rental costs €8 and use of the lift is free for skiers and snowboarders who hold a valid lift pass. In nearby Saalfelden, the Biberg toboggan run measures a staggering 6km and is open daily from 10am til 2am.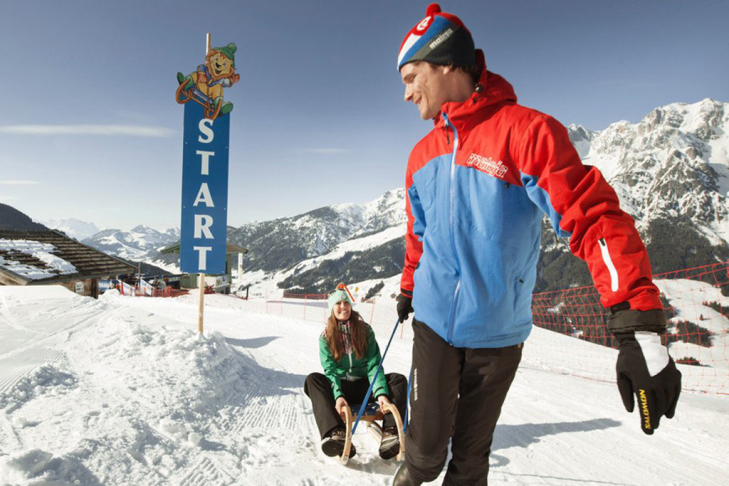 (Photo: © Saalbach.com)
4. Timok's Coaster in Fieberbrunn
Timok's Coaster in Fieberbrunn is open all year round. In contrast to the other tobogganing runs which are done on a traditional sledge, Timok's Coaster more closely resembles a roller coaster, with a plastic sledge that runs over a fixed rail. The track is 1160m long and features a series of ups, downs and turns. The coaster can fit one or two people. Timok's Coaster is open daily from noon til 4pm and – bonus! – it's free of charge for anyone who holds a valid ski pass. If you're in Fieberbrunn and prefer traditional sledging, there is a 2.5km run from the Hochkogel (1060m) which is lit until midnight, open every day.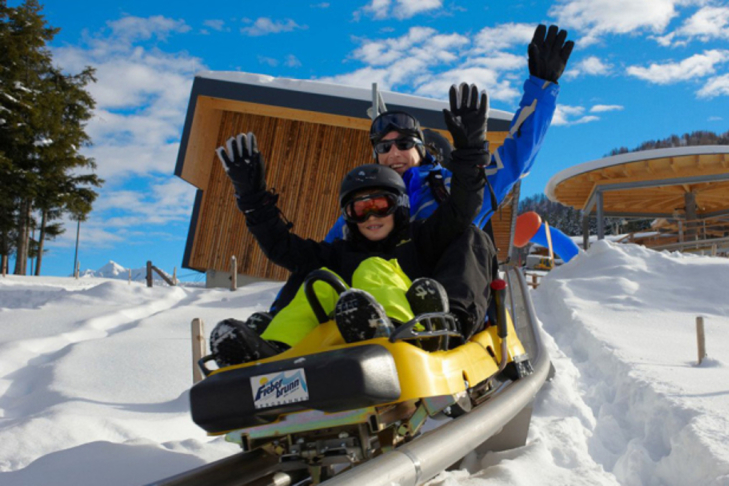 (Photo: © Saalbach.com)
What's your favourite activity at the Skicircus Saalbach Hinterglemm Leogang Fieberbrunn?

Teaser image © Saalfelden-leogang.com