We spend a lot of our time on the mountains waiting by the side of the slopes (snowboarders, we're looking at you!). But although we complain about the wait, there's really no excuse for being bored during these times. Dole out a bag of sweets, check out the other skiers or just breathe in and enjoy the mountain landscapes! If you find yourself whinging about how long your friends take to put on their bindings, check out our other ideas for what to do while you're waiting on the slopes.
1. Hand out sweets
This is a brilliant way to pass the time while ingratiating yourself with the rest of your group. Whether you're waiting for the slower skiers in your group or for the snowboarders to put on their bindings, you should have ample time to get out a bag of sweets and pass it around. Don't forget to share with the stragglers, too.
2. Check out the other skiers
One of the best ways to improve your skiing technique is by watching other skiers. It never gets old! Check out how people turn, jump and negotiate moguls and powder, and you'll be well on your way to understanding how to adapt your technique to the different terrain on the mountain.
3. Pull off fancy tricks
If you're the type who can't sit still, consider making the best of those wait times by doing fancy tricks on your skis. Balance your ski poles on your hands, stand on the tips of your skis or come up with your own invention – the sky's the limit!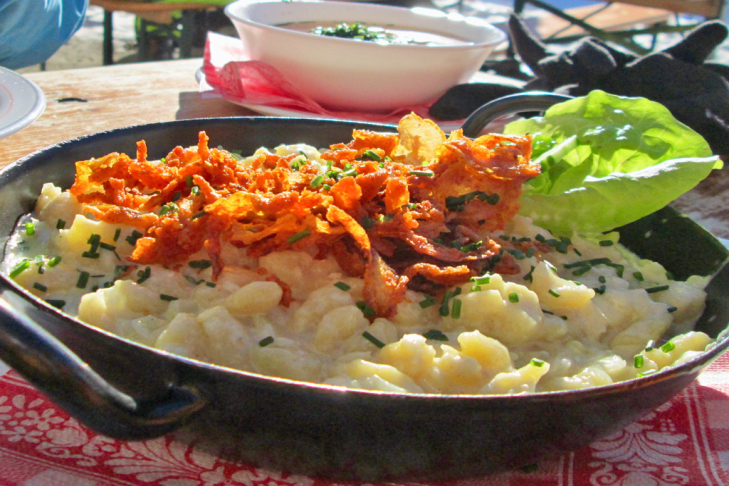 Will you order Käsespätzle for lunch?
4. Daydream about lunchtime
If you thought the wait on the slopes was bad, wait until you get to the queue at the mountain restaurant! You can save yourself and others time by mentally pre-planning your meal. That way you don't have to dither when ordering – and who needs an excuse to daydream about kaiserschmarrn, tiroler gröstl and käsespätzle?
5. Have fun at the expense of your friends
It's prank time! Unclick your mate from their ski, throw a snowball at an unsuspecting group member or loosen someone's boot when they're not looking. It's all in good fun.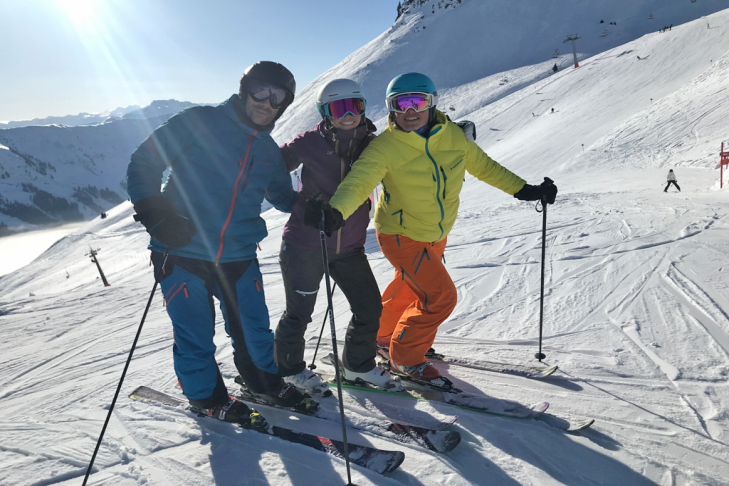 Enjoying each others' company
6. Catch up with your friends
There's a reason you go skiing with your friends - so you can talk to them! But it's hard to do that when you can hear the wind whistling past your ears on that fast blue cruiser. Make the most of the break times by using the opportunity to chat.
7. Take pictures
Capture the beauty of the mountains and the excitement of your trip by snapping pics of the scenery and of your friends and family. Whether they're destined for social media or just for your own personal memories, pictures are always a nice memento of your holiday!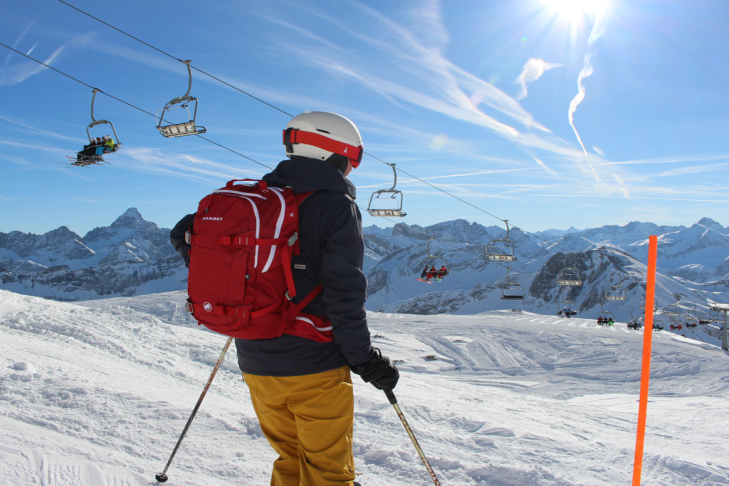 Enjoy the view
8. Just sit back and enjoy
When all is said and done, you're perched on a slope in the middle of a stunningly beautiful mountain landscape, surrounded by the people you love. Enjoy it while it lasts!