With 270km of pistes, the Skicircus Saalbach Hinterglemm Leogang Fieberbrunn is one of the largest linked ski areas in Austria. This makes it the ideal destination for a ski holiday with the family, whether it's young kids just taking their first ski lessons or confident teens who can't wait to show off their skills in the snow park. At the Skicircus you'll find English-speaking ski instructors, specialised kids' skiing zones, snow parks and ski circuits where almost every level of skier or snowboarder can challenge themselves. Off the pistes you'll also find no shortage of fun activities to keep the whole family entertained. Following are some of our recommendations for family ski holidays at the Skicircus.
1. Practice on the blue pistes
The Skicircus Saalbach Hinterglemm Leogang Fieberbrunn is a perfect ski area for beginner skiers and snowboarders to build up their confidence. The ski area has around 140km of blue pistes, including a good portion of wide pistes perfect for practising turns. Consider enrolling the kids in ski school or even taking a family ski lesson!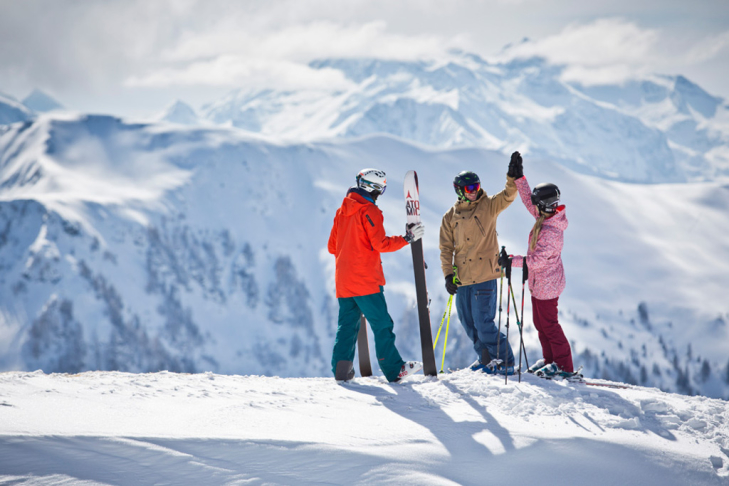 (Photo © saalbach.com, Mirja Geh)
2. Go tobogganing
Tobogganing is a great activity for all ages, and you'll find several options for going tobogganing at the Skicircus. On the Reiterkogel you can even go tobogganing in the evenings, on a floodlit slope just over 3km long. We also recommend Leo's Kufengaudi at the Asitz lift in Leogang. This run is also about 3km long and is open several evenings a week. Both toboggan runs are done with a traditional wooden sledge. If you want a more newfangled alternative, try the 1.1km-long Timoks Coaster in Fieberbrunn with its exciting dips and curves.
3. SkiMovie pistes
It doesn't count unless you have the proof! With SkiMovie, you can record your greatest moments on film and show off to your family and friends later. The Skicircus has a selection of SkiMovie pistes including race and slalom courses. You can find the videos using the unique number on your ski pass. Let the kids show off and compare their performance against yours!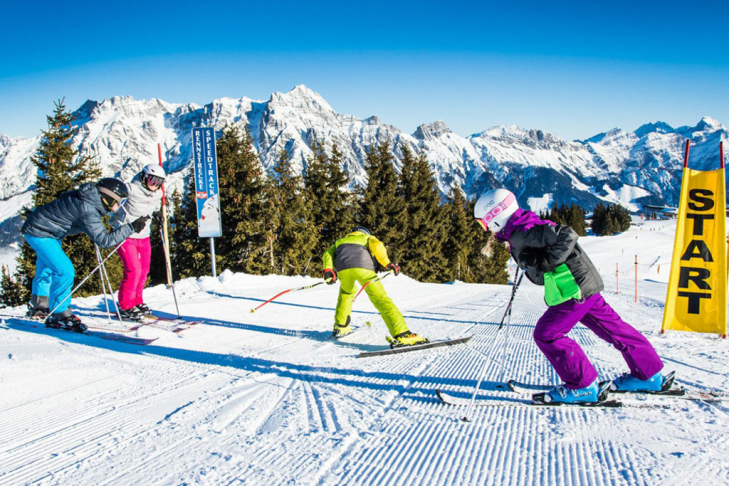 (Photo: © saalbach.com)
4. Snowtubing
A ski holiday with the kids is not complete until you've gone snowtubing! Near the Unterschwarzach lift you can go snowtubing as a family and experience the feeling of gliding over the snow from a completely different angle. Have fun and watch out for the bumps!
5. Challenge yourself on one of the ski circuits
No matter whether they're ten or twenty, as soon as the kids have a good enough level of skiing or snowboarding, you won't want to miss a round of one of the ski circuits. You can choose from several ski circuits of varying difficulty:

Saalbach ski circuit: 100% blue runs with a length of 19km
Hinterglemm ski circuit: Intermediate-level ski circuit measuring 25-26km
Leogang ski circuit: 100% blue runs with a length of 26km
Tyrol ski circuit: Ski circuit for confident intermediates measuring 22km
The Challenge: Ski circuit for advanced skiers measuring 65km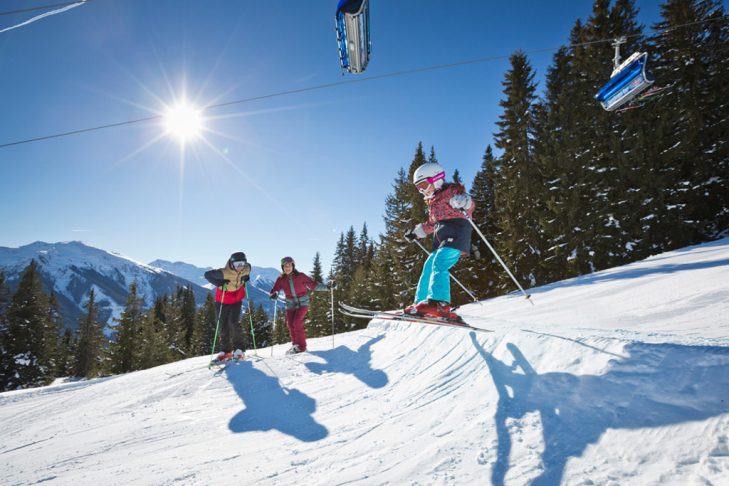 (Photo © saalbach.com, Mirja Geh)
6. Take ski lessons with an English-speaking instructor
In the Skicircus you should have no trouble finding ski lessons with English-speaking ski instructors. Ski schools have their own children's areas where even the smallest tots can make their first tracks on their skis or snowboard. If you were hoping to escape for a couple hours or even an entire day and explore the mountain without the kids, check out the childcare options offered at the Skicircus.
7. Explore the Snow Trails
Once the children are confident on their skis or snowboard, you might want to check out one of the Snow Trails. These nature-inspired "pistes" can be found throughout the ski area and offer a beautiful alternative for exploring the mountain. Opening is subject to snow conditions as no artificial snow is used on the Snow Trails.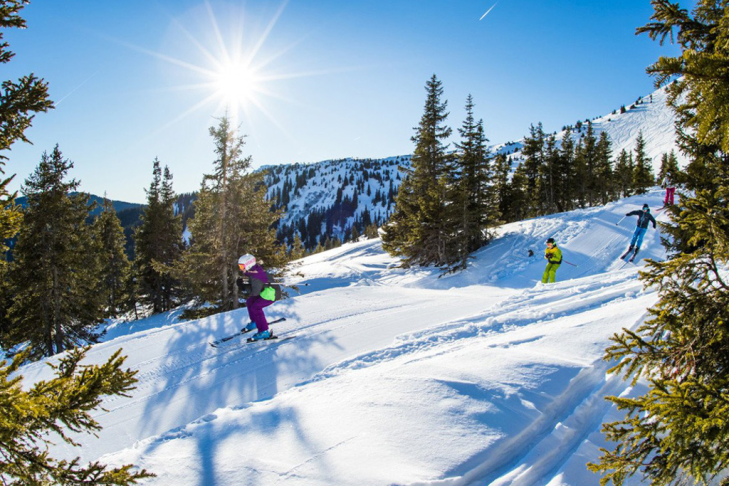 (Photo: © saalbach.com)
What's your favourite family activity at the Skicircus Saalbach Hinterglemm Leogang Fieberbrunn? Leave us a comment!