Skiing and snowboarding carry their fair share of risk, no matter whether you're a beginner or an expert. But with a few simple precautions, you can greatly minimise your risk of injury. Get fit, equip yourself with proper-fitting material and stay within your expertise level and you're much less likely to hurt yourself. And that means you can ski longer: a win-win!
Get in shape
Poor fitness is one of the most common reasons for a ski injury. Skiing (or snowboarding) requires endurance, strength, balance and coordination. Most skiers and snowboarders get injured near the end of the day, when their bodies find it harder to cope with the strain of the sport. Doing a few simple exercises a few weeks before your ski holiday can work wonders.
Take lessons
Lessons are beneficial not only for beginners, but also for anyone who wants to take their skiing or snowboarding to the next level. If you're been eyeing up that red piste or if your friends have dared you to tackle a black slope this year, it might be a good idea to take lessons beforehand so you're able to make it down in one piece!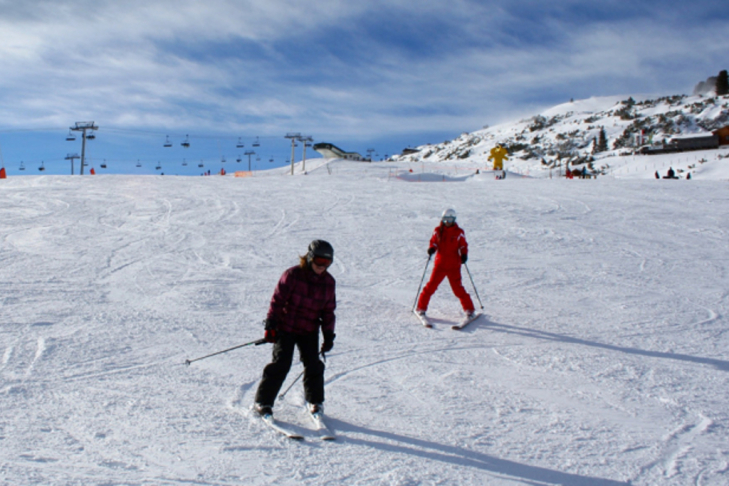 Ski lessons can be handy no matter what your level
Double-check your ski or snowboard equipment
Are your bindings properly adjusted? Are your boots done up properly? Are your edges sharp enough? These seemingly small details have been the cause of many a skiing and snowboarding accident. Our tip: always be honest about your weight and ability level when renting equipment, so they can adjust your bindings according to the terrain you'll be skiing and the pressure you're likely to put on your gear.
Only borrow when necessary
Along the same lines, be very careful when borrowing skis or a snowboard. We strongly advise against borrowing gear that's too long or too short, ski boots that don't fit properly, etc. Aside from putting yourself at risk for an injury, you're also ruining your day, because you'll most likely find it very frustrating to ski in ill-fitting equipment.
Stay within your limits
Tempting as your friends make it seem, it's not a good idea to venture onto a piste that's above your ability level, especially if you don't feel comfortable and are only doing it because you feel pressured into it!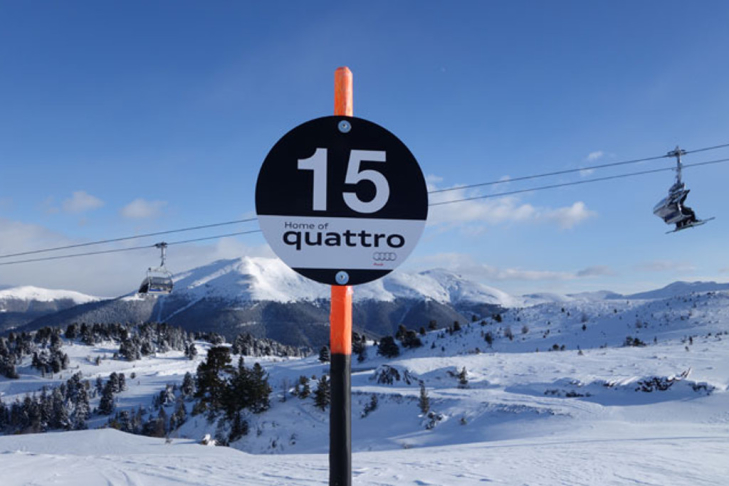 Might be better to stay away from that black piste if you're unsure!
Always heed advice from local authorities
This is especially important in light of the recent snowstorms in Austria, which caused much of the country to raise the avalanche risk level to 4 and even 5/5. Off-piste powder isn't worth your life, nor the lives of the search-and-rescue team. Respect piste closures, out-of-bounds signs and any other recommendations from the ski resort.
Don't ski or snowboard alone
This applies especially if you're venturing off-piste. But even within bounds on prepared pistes, it's better to ski with a partner if you can. That way you can check in on each other and raise the alarm if one of you goes missing. You never know when the weather might turn, or you might get lost or hurt.
Wear a helmet
Helmets have pretty much become a regular fixture on the slopes these days, and it seems crazy to think of the days when we didn't wear them. Even if you feel confident in your own skiing abilities, you can't trust all those crazy skiers around you. Please wear a helmet!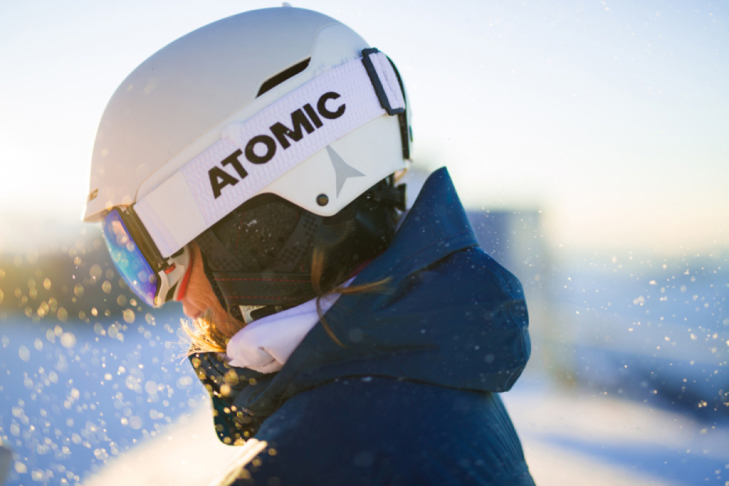 Always wear a helmet when skiing or snowboarding
Learn how to fall
Falling doesn't always have to be catastrophic! There are a lot of things you can do to protect the most vulnerable parts of your body, such as your wrist, elbow and shoulder. By learning to land and roll in the right way, you can somewhat cushion your impact and maybe save yourself a trip to the hospital.
Take regular breaks
Do some light stretching before putting on your skis, and start off with an easier piste, no matter how good you are. Aside from serving as a warm-up, this will let you assess the snow conditions that day. Don't be afraid to take breaks when you start to feel tired or hungry, and don't forget to keep well-hydrated. And there's no shame in ending a run or two early. People almost always get injured on the last run of the day!
Don't forget to take out winter sports travel insurance in case you get injured despite all your precautions!