The most notorious ski race in the world will take place once again this year in Austria. On January 26, 2019, thousands of spectators will flock to Kitzbühel to cheer on the professional skiers as they fly down the Streif at the 79th Hahnenkamm races. The FIS Skiing World Cup event will include super G, slalom and downhill races. Whether you'll be watching live or on TV, here's what you need to know about the legendary ski event.
The Streif downhill: Most legendary skiing race course in the world
The Streif downhill is legendary for a reason. One of the steepest and most dangerous pistes in the Alps, the slope reaches a gradient of up to 85%. This means skiers sometimes jump up to 60 metres before touching the ground again! It's no wonder that skiers have reached speeds of over 130km/h on this piste. The run measures 3312 metres long and 1665 metres high and the fastest time was skied by Austrian skier Fritz Strobl, who sailed down the whole thing in just 1:51:58, or an average of 107km/h. The fastest speed ever achieved on the Streif downhill was a whopping 153km/h, by fellow Austrian skier Michael Walchhofer in 2006.

Video: Interactive 360° view of the Streif. Mouse over the image to control the panoramic view and put yourself in the shoes of a pro skier!
Race schedule: Hahnenkamm Races 2019
Kitzbühel will host numerous events and a total of four World Cup races on the Streif and the Ganslernhang next week from Tuesday through Sunday. Following is the preliminary programme. Don't miss the après-ski parties on the Saturday after the Streif downhill! See tickets and prices >

Sunday, January 20
6:15pm Inauguration of race week

Monday, January 21
10:30am Europacup Downhill (Streif)

Wednesday, January 23
10am Hahnenkamm Juniors first run (Ganslern)
1pm Hahnenkamm Juniors second run (Ganslern)

Friday, January 25
11:30am Hahnenkamm Super-G

Saturday, January 26
11:30am Hahnenkamm Downhill (Streif)

Sunday, January 27
10:30am Hahnenkamm Slalom first run (Ganslern)
1:30pm Hahnenkamm Slalom second run (Ganslern)


Schedule is subject to change; please confirm with Hahnenkamm website before attending. See full programme >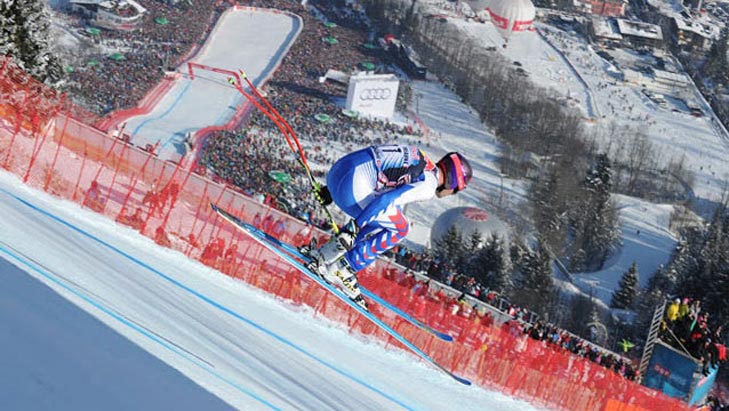 Skiers jump distances of up to 60 metres (Photo: © Kitzbüheler Ski Club)
Practical info: Kitzbühel and the Hahnenkamm Races
One of the most popular ski resorts in the Alps, the linked KitzSki area offers access to 170km of slopes, two snow parks and some excellent off-piste terrain. When you're craving a break, there are loads of mountain restaurants and cosy cafés to choose from. And once the slopes start to close, après-ski kicks into top gear! For the Hahnenkamm Races, the resort will run free shuttle trains to Kitzbühel from Kirchberg and Oberndorf every 15 minutes.
Will there be enough snow for the Hahnenkamm Races?
Unfortunately, this is a valid question, as the Hahnenkamm races have been cancelled in the past due to weather or lack of snow cover. Other times, the race was shortened or the track altered. This year the snow cover shouldn't be an issue – check out the webcams to keep an eye on snow conditions and see for yourself if the race will go ahead as planned. If you really want to get in the mood, rewatch the legendary film Streif: One Hell of a Ride! See snow forecast >