Amid cash flow problems, Cairngorm Mountain was first placed under administration and subsequently taken over by Highlands and Islands Enterprise (HIE) this December. HIE owns CairnGorm Mountain but had been leasing it to privately owned operators Cairngorm Mountain Ltd. The new operators will be registered under the name Cairngorm Mountain (Scotland) Ltd. The transfer has saved around 70 jobs and the ski resort is bravely pursuing operations despite the lack of snow and lack of funicular. Currently, the only other ski resort open for skiing and snowboarding in Scotland is The Lecht, albeit with very thin snow cover.
Cairngorm Mountain placed under administration in late 2018
The financial troubles of the beleaguered Highland resort were largely brought on by the temporary closure of the funicular, just before ski season. The funicular was inaugurated back in 2001 and cost £26m. It normally transports around 300 000 visitors a year but was deemed potentially unsafe back in September. Re-opening of the mountain railway is contingent on a safety report on its structural problems. Unfortunately, the report has been repeatedly delayed, most recently thanks to a snowstorm that hit the resort over Christmas.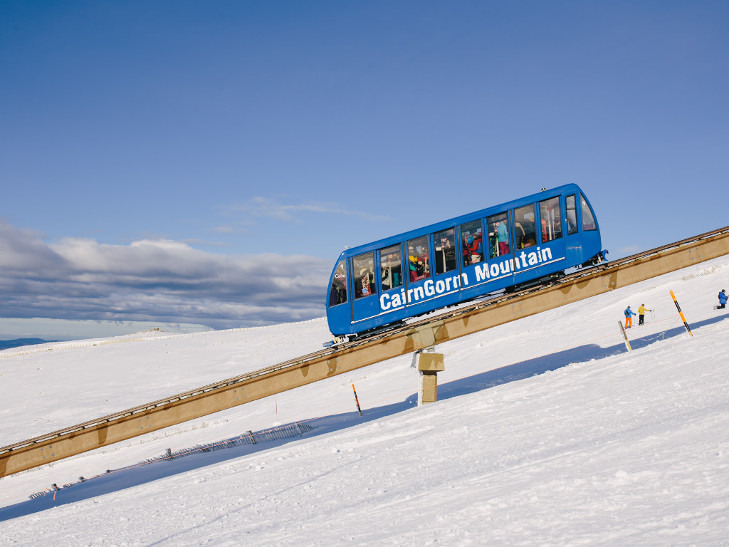 Cairngorm's funicular was closed in September due to safety concerns (Photo: © Cairngorm Mountain)
New operators will maintain normal skiing operations at Cairngorm Mountain
In an effort to stimulate skiing at Cairngorm, HIE has scrapped parking charges and reduced ticket prices. The new operators will also honour season tickets that were already purchased. Despite having no funicular, Cairngorm managed to open the nursery area rope tow at the end of December using artificial snow from the new snow factory. HIE has invested £1 million of new snowmaking equipment in the ski area and is waiting for temperatures to drop later this week in hopes they can increase snowmaking. The Scottish ski industry is investing heavily in TechnoAlpine Snowfactories, a type of snow cannon that can produce snow in mild temperatures without resorting to chemical additives. Cairngorm is one of three Scottish ski resorts producing artificial snow this winter.
Cairngorm operators to increase snowmaking when temperatures drop
Saturday 5th January Round the clock snowmaking continues, with some very impressive results from the Factory. All our...

Posted by Cairngorm Operations Updates on Saturday, 5 January 2019
Scottish ski industry (tentatively) on the rise
The Scottish ski industry recorded 247,139 skier days last season, representing a boost to the economy of almost £31 million. The number of skier days is down from 1991 figures but much more encouraging than the ten-year average to 2010, when there were less than 200 000 skier days recorded. Keeping Cairngorm open is an important goal for Aviemore and the local community is rallying to help as much as they can. Meanwhile, local business owners are encouraging people to try alternate activities in the area, such as cross-country skiing and winter hiking.