The Scottish ski resort of Glenshee is the first ski resort in the UK to have an avalanche rescue dog. To the delight of her faithful owner, border collie-springer cross Bodie passed all her tests last year and began working this winter in time for avalanche season in Scotland. Bodie will be an invaluable addition to the avalanche search-and-rescue team at Glenshee.
Bodie is already a hit with skiers and snowboarders at Glenshee
Glenshee ski centre manager Kate Hunter adopted Bodie when she was just a pup and brings her to work almost every day at the ski area, where she is popular with the skiers and helps Kate open the ski runs in the morning. An adorable cross between a border collie and a springer, Bodie has been training since last year with the Search and Rescue Dog Association Scotland, alongside dogs who will one day work for the police. At the age of 8, she has now become a full-time avalanche rescue dog for the ski resort. Bodie can run at a speed of about 4-6 miles per hour and will be invaluable in helping to find avalanche victims. She barks when she spies someone on the ground, and starts digging if she gets a whiff of human scent underneath the snow. Her skills will be tested every month to keep them up to scratch.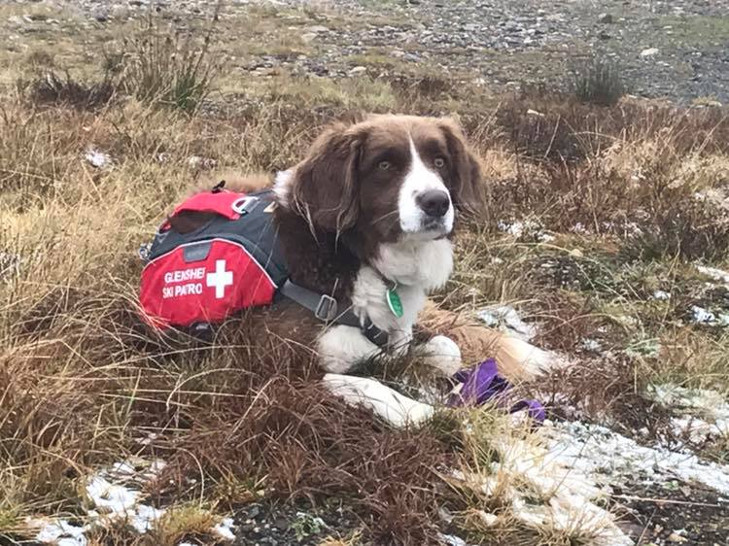 Photo: © Facebook, STV Weather
Scotland experiences 200 avalanches a year
Bodie's position as the UK's first-ever avalanche rescue dog is well-earned: she spent two days stuck in the snow when she was just ten months old. Although Scotland's ski areas aren't as high-altitude as the Alps, the country still experiences 200 avalanches a year, and rescuers are called out around 300 times.
Avalanche rescue dogs are an invaluable part of the search-and-rescue team
Unlike mountain rescue dogs, avalanche rescue dogs are based at ski resorts and can respond immediately to calls for help. Bodie works for the Scottish Avalanche Information Service but is based at Glenshee. In addition to finding avalanche victims, she can also help clear the pistes at the end of the ski day. Especially in the case of skiers and snowboarders venturing off-piste, an avalanche rescue dog can be vital in finding victims who are trapped in the snow. Just last week, a young boy caught in an avalanche in the French Alps was rescued when an avalanche rescue dog sniffed him out from under the snow. The boy was not wearing an avalanche beacon and had it not been for the dog, he would almost certainly have perished.