Pitztal is the collective name for the villages in Pitztal - Arzl, Pitztal - Jerzens, Pitztal - St. Leonhard Pitztal - Wenns. These villages in the elongated Valley are some distance apart. At the beginning of the valley Jerzens has access to a sunny area located on the Hochzeiger. For both beginners and advanced this area offers opportunities.
Sankt Leonhard is located deep in the Pitztal and consists of several villages. Sankt Leonhard is an option for people who want to make the most of the two ski areas in Pitztal namely the Hochzeiger located at the end of the valley and the Pitztal Glacier. Early in the season, there are always excellent conditions here which is not surprising when you realise that the slopes reach up to 3440 meters!
Snowplaza review
Après-ski/events
Cross-country skiing
Families & Children
Price level
Winter hiking
"The car park and lift facilities are clearly marked and the cash desk, toilet and entrance are easily reached on foot from the car park. We visited in November..."
Besides Hochzeiger and the Pitztal Glacier, Pitztal also has a third ski resort. The ski area of Rifflsee is near the glacier at the end of the valley and offers 20 kilometers of slopes and from here many people prefer to opt for the glacier skiing. The glacier train takes you to an altitude of 2840 meters where 68 kilometers of slopes are waiting to be explored. Hochzeiger is a family resort where every type of skier can enjoy a great ski holiday.
Both the ski areas of Hochzeiger and the Pitztal Glacier have a fun park. On the glacier you will find the park when you take the Mittelbergbahn and then descent 36. In three different areas, both pros and rookies can work on their skills. The park on the Hochzeiger includes kickers, a rainbowbox and various rails.
Cross-country skiers can access, via the hamlet of Wiese at 1182 meters, the Pitztalloipe cross-country trail that runs through the entire valley. This 21 kilometer trail is prepared daily and runs through the unspoiled nature of the Pitztal. Every village here also has its own (short) tracks. Anyone who has not had enough can also attack the high altitude trails of the glacier and Rifflsee area.
When the Pitztal is buried under a thick layer of snow, you can still enjoy walks here. The trails are prepared daily so you do not have to trudge through thick snow - you can simply enjoy the tranquility and unspoilt nature during a walk through the Pitztal.
Apres-ski & entertainment Pitztal

Restaurants

50

Theatre

-

Bars & cafes

40

Casino

-

Nightclubs & discos

8

Concert hall
Cinema

-
Ski school and ski lessons Pitztal

No. of ski schools

2

Private ski lessons

€ 62

No. of ski instructors

110

Ski lessons

6 Days, 24 Hours, € 235

Area for beginners
Snowboarding lessons

6 Days, 24 Hours, € 235

Ski lessons in
Cross-country skiing

Yes, price on request
Facilities Pitztal

No. of hotels

54

Supermarkets

7

Total no. of hotel beds

3411

Banks
Total no. of beds

8250
Tourist information for Pitztal

Name

Tourismusverband Pitztal

Email
Telephone

0043 - 05414 - 86999

Website
Distances from Pitztal

Railway station

Imst-Pitztal approx. 3 km by bus

Airport:

Innsbruck approx. 60 km by bus

From the motorway:

approx. 15 km 21 minuten by car
Pitztal for families and children

Childcare
Magic carpet
Playground
Ski lift for children
Merry-go-round
Leisure & sports activities Pitztal

Public sauna
Footpaths

20 km

Fitness centre
Torchlight descent

Fakkelwandelingen wekelijks georganiseerd door skischool Club Alpin en skischool Hochzeiger

Public solarium
Indoor ice rink

-

Massage
Outdoor ice rink
Spa & wellness

-

Curling
Indoor swimming pool

-

Snow rafting

-

Hot air ballooning

-

Dog sledding

-

Paragliding
Snowmobile tours

-

Indoor tennis court
Toboggan run
Squash court

-
Ski blog about Pitztal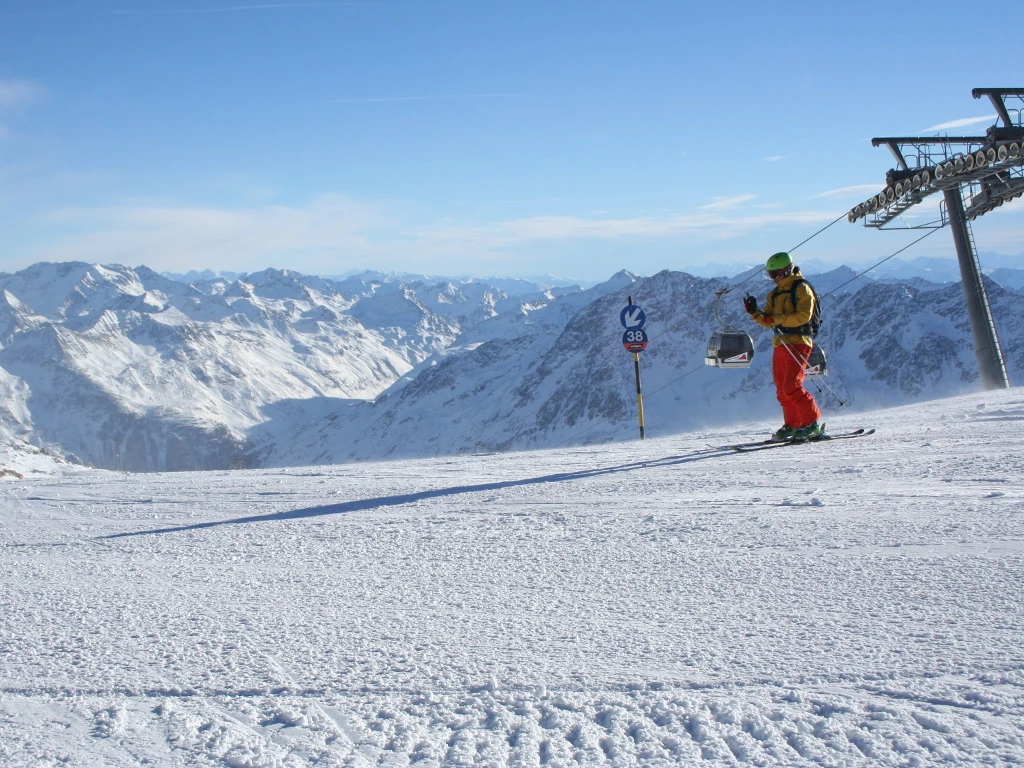 The highest-altitude ski areas are starting to open for ski season soon! Below is a list of ski areas that are projected to open in September and October. Please note the dates have been provided by the ski areas but are subject to change depending on snow cover.... More ›