Davos was originally known as a thermal spa health resort that treated patients suffering from tuberculosis. With the opening of the Bolgens lift in 1934 - said to be the first T-bar in the world - this Swiss town quickly made a name for itself as a major ski resort. At 1560m above sea level, Davos is the highest city in Europe, the perfect base for your winter sport holidays!
Along with the neighbouring ski resort of Klosters, Davos offers access to half a dozen ski areas. Together, Madrisa, Parsenn-Gotschna, Jakobshorn, Pischa, Rinerhorn and Schatzalp represent around 300km of pistes in the Davos Klosters linked ski area. Thanks to the many snow parks and halfpipes, Davos is particularly popular with snowboarders. Unlike most smaller ski resorts, Davos feels like a real city, with all the same amenities on offer. This bustling city in Switzerland is mainly German-speaking, but despite the language barrier, it's easy to make yourself understood thanks to the very friendly welcome in the ski resort and up on the slopes!
Snowplaza review
Après-ski/events
Cross-country skiing
Families & Children
Price level
Winter hiking
"Davos is the best ski town, and not only for skiing, snowboarding, cross-country skiing, tobogganing and snowshoeing, but also just to relax and enjoy being in ..."
Six ski areas in Davos-Klosters
Davos may be known for its international conferences, but in winter this ski resort is just as famous in its own right for its fantastic skiing and snowboarding terrain. Parsenn is the most popular and the biggest of the six ski areas that make up Davos-Klosters, and you'll find a 12km-long valley run here that takes you from the Weissfluhgipfel to Kublis. Freeriders can head to Pischa, an off-piste paradise and one of the largest freeride areas in Switzerland. Davos has come a long way since the birth of snowboarding in the 1980s, when snowboarders were only allowed to use the lifts on the Jakobshorn! Today, the JatzPark is one of the top snow parks in Switzerland. Freestylers can practise their skills with the Bolgen superpipe and big air bag while enjoying spectacular views of the city. Davos also offers night skiing several times a week on floodlit slopes.
Après-ski in Davos
Après-ski in Davos is a classy cosmopolitan affair, with a high-end, international ambience. There are a large number of good après-ski bars and restaurants including the Postli Club, the Tonic Piano bar and the Cabanna club so those looking for good après-ski and nightlife will not be disappointed on their ski holidays in Davos.
Lots to do off the slopes
The bustling city of Davos offers plenty to do when the ski day is over. High-end shops and cafés line the streets of the city centre - you're best off bringing a full wallet if you want to fully enjoy your time in Davos! Just around the corner you'll find Madrisa-Land, the largest amusement park in Switzerland. Madrisa-Land is open in summer and winter and is specially adapted for physically and visually impaired children. Davos also offers ice-skating, tobogganing, ice climbing, paragliding, fatbiking and horse-drawn carriage rides. Cross-country skiers can explore 100km of trails in the surrounding forests, while winter hikers and snowshoers can find some tranquility on 160km of trails.
Apres-ski & entertainment Davos

Restaurants

100

Theatre
Bars & cafes

40

Casino
Nightclubs & discos

14

Concert hall
Cinema

-
Ski school and ski lessons Davos

No. of ski schools

4

Private ski lessons

CHF 75

No. of ski instructors

-

Ski lessons

5 Days, 20 Hours, CHF 335

Area for beginners
Snowboarding lessons

5 Days, 20 Hours, CHF 335

Ski lessons in
Cross-country skiing

5 Days, 20 Hours, CHF 220
Book ski schools in Davos online

Kids-Ski-Lessons
11 Offers available
Adult-Ski-Lessons
9 Offers available
Snowboard-Lessons
6 Offers available
Cross-Country-Skiing
2 Offers available
Facilities Davos

No. of hotels

57

Supermarkets

13

Total no. of hotel beds

6200

Banks
Total no. of beds

27000
Tourist information for Davos

Name

Destination Davos Klosters

Email
Telephone

0041 - 081 - 4152121

Website
Distances from Davos

Railway station

Davos Platz, Davos Dorf - by bus

Airport:

Zürich approx. 170 km by bus

From the motorway:

approx. 40 km 45 minuten by car
Davos for families and children

Childcare

-

Magic carpet
Playground
Ski lift for children
Merry-go-round

-
Leisure & sports activities Davos

Public sauna
Footpaths

111 km

Fitness centre
Torchlight descent

fakkeltochten tijdens een speciaal programma

Public solarium
Indoor ice rink
Massage
Outdoor ice rink
Spa & wellness
Curling
Indoor swimming pool
Snow rafting
Hot air ballooning

-

Dog sledding

-

Paragliding
Snowmobile tours

-

Indoor tennis court
Toboggan run
Squash court
Ski blog about Davos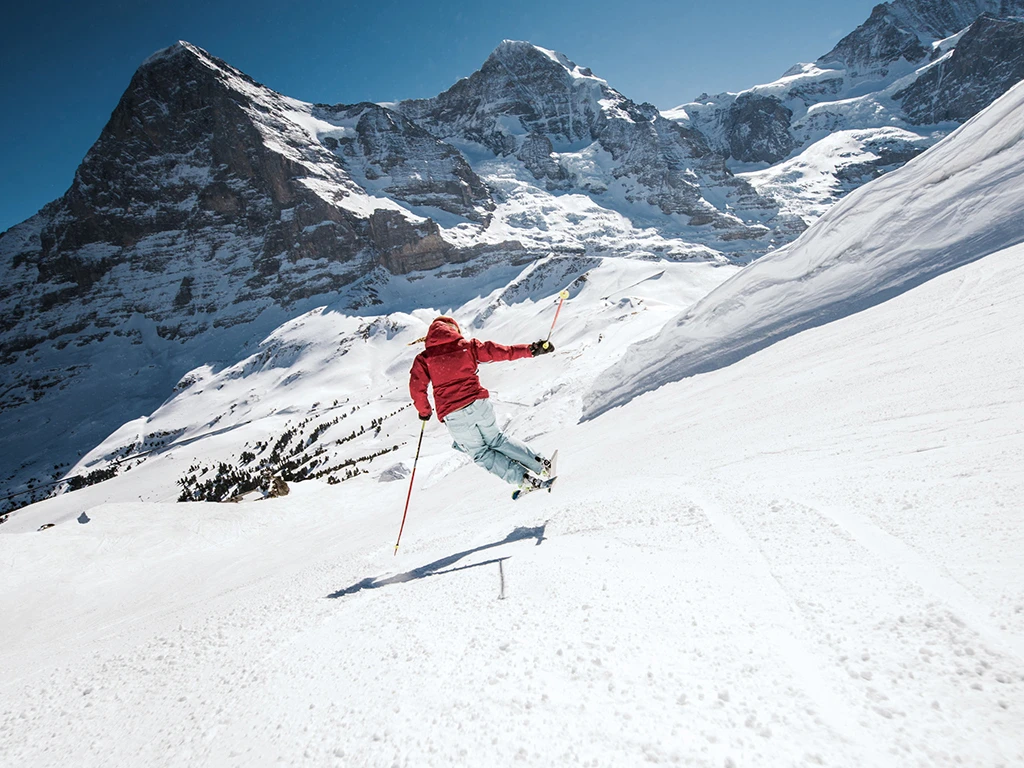 There's nothing more heartbreaking than arriving at your long-awaited ski holiday only to find brown hills and a couple of cows grazing! When you've scheduled holiday time, invested money and spent hours researching your ski area and accommodation, the last thing you want is a ski area with unreliable snow cover. The good news is that you don't have to be completely at the mercy of the elements this year. Switzerland is known for its especially high-altitude ski areas and the following ski areas hav... More ›
(Photo: © Jungfraubahnen 2019)
You might know Davos as the location of the annual World Economic Forum conference, but did you know it's also one of the most popular ski resorts in Switzerland? At 1560 metres above sea level, Davos claims the title of the highest city in Europe and skiers and snowboarders enjoy an international, cosmopolitan vibe on their holiday here. Together with neighbouring Klosters, Davos is part of a linked ski area with 6 parts and a total of more than 250 kilometres of slopes. Here are 7 reasons we l... More ›
This weekend marks the finale of the annual Art on Ice show, which played at Zurich and Lausanne earlier this week and is staging two more performances at Davos on February 10 and 11. The "most successful ice skating gala in the world," Art on Ice attracts 80 000 spectators every year who gather from far and wide to watch an amazing show of musicians, figure skaters and more. From the beloved singer-songwriter James Morrison to Sarah Meier, 2011 European Ice-Skating Champion, this year's lineu... More ›